Like most of us, Nicole Scherzinger loves shaking her stuff on the dance floor and having a drink or two.

But her recent behaviour during a night out at London's posh Sushisamba restaurant has left many worried about the X Factor judge.

The single star, who split with boyfriend Lewis Hamilton in July, went out wearing a skin tight silver catsuit with mesh panels – so it was clear to everyone that she wasn't wearing any underwear.

Clearly out to have a good time, Nicole wasted no time in burning up the dancefloor and downing shots, but witnesses claim that the star soon became a bit of a mess.

The Mirror's 3am report that the former Pussycat Dolls star – who was spotted drinking vodka and tequila shots – was seen crawling around the VIP area, kicking her legs in the air, and embarrassingly even fell off the seating area at one point.

Nicole apparently made a scene as she leapt into the arms of fashion designer Julien Macdonald and then irritated Lindsay Lohan's ex-girlfriend Sam Ronson (who was hired that night to spin some tunes) by running into the DJ booth while she was on the decks.

The also allege that Nicole "draped herself" over several guys at the event, before having a "slut-drop" competition with Radio 1 DJ Nick Grimshaw.

Her friends apparently tried to get the X Factor judge to go home a number of times, but the star didn't want to leave the party.

An eyewitness told The Mirror: "Nicole just came over to me and my mate and started chatting in her sexy southern drawl. She was saying what a fun night she was having but she was being really flirty and kept giggling."

"I was about to ask for her number because it was going so well, but she was dragged away by her mates, who seemed a bit worried. I was gutted."


Dancer, Songwriter, Singer
born 29/06/1978
This incident comes not long after Nicole was accused of being drunk during the filming of the X Factor.

During the disco-themed show the TV judge behaved rather erratically on screen, shouting random comments and waving her arms around, earning her the nickname 'Nicole Slurzinger.'

Although the 35-year-old's representatives denied that Nicole had been drinking before the show, instead claiming that "she was getting into the disco spirit" of the show.

Speaking about Nicole's crazy behaviour on Tuesday night, her party partner-in-crime Nick Grimshaw told 3am: "Nicole was very high-spirited. Remember when people said she was drunk on telly and she said, 'I wasn't drunk I was getting into the disco vibe'? Well she was getting into the disco vibe last night. It was like it was 1978 up in there."

He added: "She didn't have any knickers on and you could see the sides of her bottom. She leant over a balcony to get a better view of some dancers and everyone behind was like, 'Oh. My. God'."

Nicole's latest antics have caused many to be worried about the fragile star, and there's speculation that her recent behaviour could be down to her heartbreak over the ending of her relationship with Lewis.

So far the star hasn't addressed the latest claims – but whether she's just in high spirits or hiding her unhappiness, it seems like Nicole could perhaps benefit with a few early nights and a cup of cocoa.

Do you think Nicole Scherzinger needs to calm it down? Tweet us @SofeminineUK.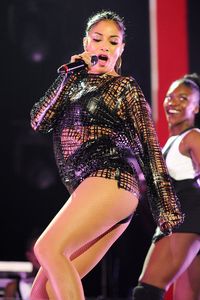 © Getty