Benedict Cumberbatch has been giving his friend Katia Elizarova acting lessons.

The LAMDA trained actor was first spotted with the 26-year-old blonde Russian model in Ibiza just last week at their mutual pals' wedding.

They were seen getting close by the pool and were even spotted kissing...although it was on the cheek.

Benedict has denied they are anything more than friends, so perhaps their poolside chats were simply innocent instructions.

It has since emerged that Katia has landed a role in Sunstroke - a play adapted from an Anton Chekov story.

She told the Daily Telegraph: "I've no theatrical experience, although I have done film.

"They gave me the role because I am so Russian.

"I have just got my script and began rehearsals. Ben has been a great help, but he is very strict."

Ever the professional.
She went on: "He asks me all about what my character wears, and even how she dresses her daughter.

"I said, 'Well, in a dress', and he said, 'No, that isn't good enough. What dress? You ought to know how your character would dress her daughter'."
Katia and Ben are obviously good friends, so what about the mystery redhead the 37-year-old Sherlock star was seen out on the town with earlier this week?

They were walking down the street hand in hand after spending the evening celebrating his birthday at the posh Mayfair club Cirque Du Soir.

The pair disappeared into a black cab and off into the night.

What do you reckon? Who's the right girl for Ben? Tweet us @sofeminineuk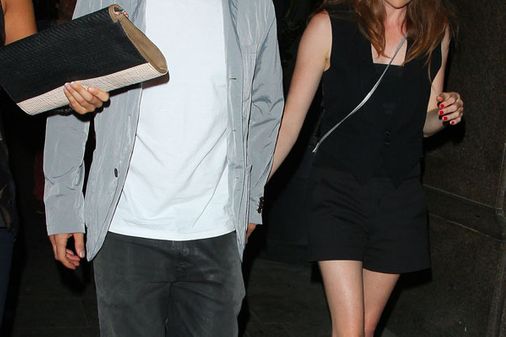 © Getty
Benedict Cumberbatch and a mystery lady