What happens when two of the most gorgeous and talented women in music team up? If we don't all die of excitement, we will all find out when Rihanna and Shakira's new single "Can't Remember to Forget You" is released next Monday, January 13.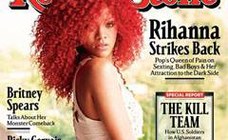 RiRi teased the release date on her Instagram feed with a promotional snapshot and the caption, "One. Week. Countdown."

In a funny twist of fate, the Shakira-Rihanna team-up was first mentioned by Pitbull, who originally wanted to collaborate with Rihanna on his new hit song "Timber," featuring Ke$ha.
"That is an ironic situation there," Pitbull said in a radio interview last month. "The person we were looking at first to work on that record was actually Rihanna, and Rihanna had something she had to do with Shakira, so she wasn't able to work on our record."

The pair are officially releasing their new single next Monday, just one day before the new issue of Glamour hits newsstands, with Shakira gracing the cover.

The sexy singer opened up to the magazine about what it was like to work with Rihanna. "At the end of the day, we're both just basically Caribbean girls," she says. "The chemistry was so good and so real. She taught me dance moves. She was a sweet teacher."
That is certainly high praise coming from the woman who has danced her way into our hearts with music videos for songs like "Hips Don't Lie," "Did It Again," and "Waka Waka."

"Working with her was utopia," Shakira says. "She's the sexiest woman on the planet."

How excited are you for the Shakira-Rihanna duet? Tweet us @sofeminineUK.