Since the 25-year old pop star rose to fame in 2005 it's not surprising someone that young in Hollywood would grow up to become a diva.
A slew of new reports claim that the songstress is a nightmare to work for due to her "diva attitudes".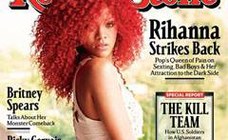 But her outrageous requests are going through the roof now with a newly discovered 10-page document listing her A-list demands.
Star magazine reported the findings which claimed that her superstar demands included her dressing room being warmed to precisely 73°F, having three humidifers with her at all times and including white furnishings and towels wherever she stayed.
Her fave drinks reportedly include: Corona, Vita Coco coconut water, Grey Goose vodka and Jack Daniel's.
And as for her fave snacks? She's got plenty: gummy bears, Cheetos Crunchy Flamin' Hot, garlic-stuffed green olives and lots of fresh food for her private chef to prepare.
And the diva party doesn't stop there! Rihanna is even known to send her staff out on the hunt for her favourite items, no matter how near or far.
A source told Star magazine: "We're always sent on some errand to the middle of nowhere just to find something trivial, like the 'right' ice bucket or colour notepad."
In Sweden she sent a staff member to search for her craving-of-the-moment, Mexican dish Carne Asada.
The source revealed: "Rihanna wouldn't go onstage until she got Carne Asada, but by the time he returned - from an hour away - the food was cold. Rihanna threw a fit, like it was his fault!
"Rihanna has never been easy to work for, but since she and Chris Brown broke up, she's been beyond horrible. She's in a bad mood 24/7 and takes it out on everyone who works for her."
The source continued: "She's so rude, always snapping at people, and she's a nightmare to be around when she's hungover. I can't even remember the last time she said 'please' or 'thank you.'"
Wowee. Turn it down a few notches RiRi! She has officially earned her first class seat on the diva train!
Rihanna is currently on her Diamonds World Tour. Poor staff!
What do you think of her ridiculous demands and behaviour? Tweet us @sofeminineUK

© Getty Images
Rihanna