Adam Sandler and Drew Barrymore have undeniable chemistry on screen and are able to make audiences laugh and believe in love all at the same time! They first starred together in the hit film The Wedding Singer. Ten years later, they played the leads in the romantic comedy 50 First Dates.

Now, the comedy power couple is back and has signed on for an upcoming comedy called Blended. Adam and Drew stopped by The Tonight Show with Jimmy Fallon to talk all about it.

Drew is expecting her second child with husband Will Kopelman and showed off her pregnancy glow. (Sidenote: how cute does she look in that J.Crew sweater?) Though it's clear her heart is spoken for in real life, Adam Sandler holds a special place as her recurring on-screen love interest.

"Every 10 years, we get to fall in love again," Drew said. Adam chimed in, "We really do. We enjoy it. We have a lot of fun together." To elaborate on their recurring romance, Jimmy Fallon brought out his guitar and asked Drew and Adam to sing an impromptu duet.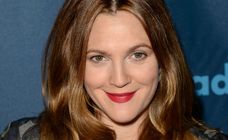 The song, affectionately dubbed "Every Ten Years," was both mushy and hysterical. Adam jokingly asked Drew if he was her best "movie husband," to which she replied yes, he was better than both Hugh Grant and Ben Stiller. But when Adam brought up Jimmy Fallon, who costarred with Drew in the 2005 film, Fever Pitch, Drew sang back, "You both have great qualities." "I'll take that," Jimmy laughed as he accompanied them on guitar.

Our fav moment in the song was when Adam sang, "I will still love you when your boobs touch the floor," and Drew replied, "So, right now?"

Their new movie, Blended, is set to hit theaters May 2014. What's your fave Adam and Drew flick? Tweet us @sofeminineUK!