Lily Allen is making a return to music with her first original material since 2009 – and boy is she as in your face as ever.

After taking time out from the spotlight as a musician to concentrate on being a mother to her two children, Lily has decided to return to her rightful place as the UK's most provocative popstar.

In her first song off her new album Allen, the straight-talking singer is lamenting about the rampant sexism in pop culture.

She appears to be taking aim and sending up a number of current pop princesses – namely Miley Cyrus and Rihanna.

Refusing to join in with the current vogue of bare-it-all celebs, Lily sings in Hard Out Here: "I don't need to shake my ass for you because I've got a brain."

She also takes a dig at the use of the word "b**tch" in pop music, with the catchy chorus featuring the line: "Forget your balls and grow a pair of tits, it's hard out here for a b**ch."

Lily has shot a rather special video to accompany the new release, which has a pretty strong message about the expectation of female singers to look and act a certain way.
Watch the Hard Out Here video below (warning: bad language):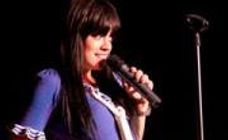 The video begins with Lily having what looks like liposuction on her tummy and legs, while her manager tells her that no talk show hosts want to interview her.

Her manager comments: "How can someone let themselves get like this?"

The surgeon says: "It's a lack of self discipline I suppose."

To which Lily replies: "Umm I had two babies…"

She's then seen dancing with a bunch of scantily clad twerking ladies, looking amazing in a skintight black outfit, trademark black 'do and bright red lips.

​Sending up other sexy pop videos, Lily is seen suggestively eating a banana, polishing her expensive hubcaps, and also fanning herself with a large bunch of dollar bills.

The 28-year-old poses next to a very shiny Rolls Royce Phantom as her backing dancers shake their butts, pour champagne on each other and smoke around her, making a point about the frequent objectification of women in pop videos.

It's a bit reminiscent of Rihanna's recent Pour It Up video and the twerking extras look like the ladies who were on stage for Miley's controversial VMA performance of We Can't Stop.
But that isn't all, Lily also clearly takes a dig at Robin Thicke and his much talked about Blurred Lines video.

In his video Robin had a big bunch of silver balloons that boasted "Robin Thicke has a big d*ck", which Lily mocks by assembling similar balloons that read: "Lily Allen has a baggy p*ssy."
Clearly excited to share the new video, Lily tweeted: "GOOD TIDINGS! It seems that Xmas has come early and I'm feeling particularly generous this year. Check back here at 3pm #HOH #HOH #HOH"

The video for Hard Out Here is worlds away from the much-loved John Lewis Christmas television advert, where Lily sings Keane's Somewhere Only We Know as cute animals frolic around a Christmas tree.

But on the whole Lily's bold comeback has been very received, getting over a million views on Youtube in under 24 hours and the singer has been busy retweeting compliments from her fans.
​What do you think of Lily's new song and video? We love it! Tweet us @SofeminineUK.

© Getty
Lily Allen