The fact is, sausages have had a bad rap over the years but really there's no better feeling than getting your mouth around a good old fashioned cumberland. Especially when it's washed down with a generous helping of gravy. OK we'll stop now.
​So from Spanish chorizos, German bratwurst to good old fashion British sausages, here's the best restaurants in town to find the bangers to your mash.
1. Bubbledogs
Some may snort at the idea of champagne with sausages but all we have to say is: snort away my friend, we're off to Bubbledogs. You've probably heard of this place as about two years ago it was all anyone was talking about it London, but for those of you who haven't, the concept of this restaurant is basically champagne paired with gourmet hot dogs. Simple.
The atmosphere is amazing, the hotdogs are to die for and drinking that champagne will help numb the pain of your bill at the end of it all.​ Try out the 'Breakie', with fried egg, tomato relish and black pudding bits, the 'Date Dog' (they're being ironic, there's A LOT of garlic) or our favourite, the Jose with avocado, salsa and jalepenos. Drool.

70 Charlotte St, London W1T 4QG
www.bubbledogs.co.uk
2. Herman Ze German
Oktoberfest has been and gone but "Thank Gott!" the Bratwurst is here to stay. Only opening a few months ago, the latest addition to the Soho sausage empire comes straight from our German cousins with the best name in the bizz, Herman Ze Germans.

Here you can order traditional bratwursts, currywursts and even Lerberkas (the literal translation is liver cheese but don't let that put you off) with a generous helping of sourkrout (yay!), beef and all the sauce under the sun. For all of those who don't know, currywurst is cut up bratwurst with a generous helping of special curry sauce sloshed on top. Yes, it's even better than it sounds. Plus if you're ordering just a hotdog – and they're big portions – your bill will usually ring in at under £5 too, at a stretch £10 if you order sides.

Even more appealing is the fact you can officially get away with talking in ze mock German aczent all ze evening. We liebe.

33 Old Compton Street, London W1D 5JU
www.herman-ze-german.co.uk
3. Brindisa
Chorizo has had a bit of a moment in recent months and rightly so. When cooked properly this Spanish sausage can be total perfection - spicy, tender and meaty all in one delicious bite, does it get much better?

So who are the Chorizo kings in London town? Well the sombrero has got to go to the one and only Brindisa. They've been selling their simple but stunning chorizo ciabatta's with piquillo peppers and rocket for over ten years now down at Borough Market. Although not there every day, when you do catch them, it's well worth it as usually everything comes in under £5! Bargain.

8 Southwark Street, London SE1 1TL
www.brindisa.com

4. Mother Mash
It wouldn't be right to have a sausage roundup and not include Mother Mash. It's an institution, end of. Hiding away in Soho, Mother Mash serves breakfast, lunch and dinner all with delicious free range sausages including classic pork, lamb and mint, beef and Guinness - it even does takeaway so you can have your bangers on the go.
To be honest we've been naughty, although the sausages are incredible, it's the mash and gravy which really make Mother Mash a done deal. Made fresh in front of your eyes with hints of cheese, horseradish, whole grain mustard or cabbage, it's really hard to think of a place that does better.

Lastly we'll leave you with a little tip for the gravy, always go for the Farmer's variety for an extra dose of meaty flavour, you won't regret it.
26 Ganton Street, London, W1F 7QZ
www.mothermash.co.uk​
5. Mishkins
If you're up for something a little bit different then Mishkins is the right way to go. Although we won't hear a bad word about their meatloaf, it's their hot dogs which have our full attention this time. ​For those not familiar with your typical ​Jewish deli, you soon will be, Jewish soul food has had a renaissance over the summer with stalls like Monty's Deli down in Maltby Street thriving, so keep your eyes out for kosher - it just got cool.
​That being said, there's nothing kosher about Mishkins. At all. With classic beef corn dogs, pork and beef Chicago style dogs and a to-die for Beef dog deli style - which means half pastrami half sour salsa, it's hard not to gorge yourself to death here. All the more reason to love this bizarre little place.
25 Catherine Street, Covent Garden London, UK WC2B 5JS
www.mishkins.co.uk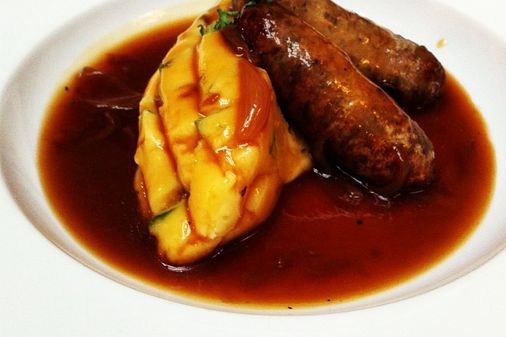 © instgram/morelikearun
Sausage and Mash at Mother Mash
Heading out to celebrate National British Sausage Week (you really should), tweet us your pics @sofeminineuk.