They claim to be in a mature relationship, but recent pictures would suggest that Chris Brown and Rihanna are doing all they can to make each other jealous.
Rihanna will surely have seen snaps of Chris holding hands with a waitress, to which she responded by getting dolled up and heading to a basketball game.

Photos emerged of bad boy Chris Brown flirting with the pretty blonde at the weekend, while Rihanna was in the middle of her massive Diamonds tour.

It didn't take long for Rihanna to step out in something only she would wear and prove to everyone, including Chris, that the snaps didn't bother her.

Wearing a vest top and tracksuit combo, which she teamed with white stilettos, Ri-Ri went to the LA Lakers vs Los Angeles Clippers game with her brother, Rorrey Fenty.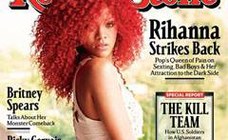 What makes the whole thing weirder is that it all happened just one week after Chris spoke in an interview about how far he'd come since the assault on Rihanna in 2009.

Appearing on the Today show, the 23-year-old rapper spoke about the effect counselling had on him.

He said: "I think it is just proving myself once again and me being a man. Knowing what I did was wrong and never doing it again.

"As far as [Rihanna] and I are concerned, she knows my heart and I know her heart. I am not really focused on the negative, everything is positive for me. I did my 52 weeks of counselling and learned it was absolutely wrong."

As ever it's pretty hard to keep track of these two, but it seems that despite the photos they're still going strong.

© Getty
Rihanna and Chris Brown