Selena Gomez arrived on the red carpet for last night's Billboard Awards in a daring white gown, complete with leg-baring slit and chest-baring sheer panels.

The 20-year-old singer took her chances with the neon-trimmed dress and though we applaud her bravery, we're not so sure about the gown itself.

With added zip style, silver detailing and a flesh-toned back panelling, Selena's outfit slightly missed the mark - though it was quite flattering on her teeny tiny frame.
Selena had two costume changes during the evening - her performance outfit included some serious hardware as she donned a gold dress with metal bustier.

Her final look of the night was the most conventional as she changed into a black floor-length gown with mesh side panels.

Selena is clearly trying to move on from the young pop star vibe she made her name with and you have to wonder if it has anything to do with her bad boy boyfriend Justin Bieber.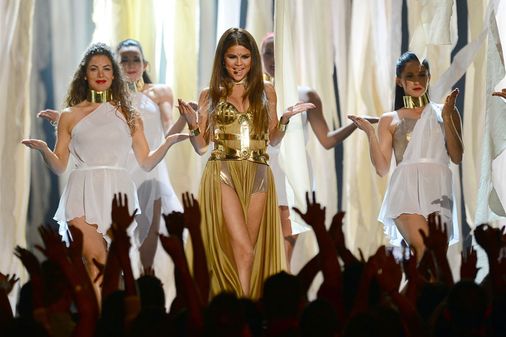 © Getty
Selena Gomez at the Billboards
Although the couple have made no official announcement, they appear to be back together after she flew out to see the 19-year-old during his European tour.

They reportedly requested to be seated next to one another at the show last night.

An insider told the MailOnline: "Their camps must have requested this seating arrangement. No way would it have happened without their go-ahead."

In the end they were seated on other sides of the room, but it doesn't sound like the end for these two.

The couple were apparently seen enjoying the thrills of Las Vegas as they were spotted watching the Cirque du Soleil on Friday night.

Let's just hope Selena doesn't take too many fashion tips from Justin...knee high socks anyone?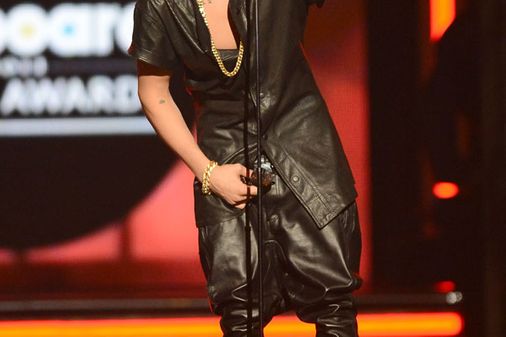 © Getty
Justin Bieber at the Billboards