It's London Fashion Week in Made In Chelsea (they're a little behind) and somehow all the characters have their pick of the shows, apparently.

Mark Francis and his long-maned sidekick Victoria are anticipating a week of "waark, waark, waark," and we were anticipating one of drama, drama, drama.
We weren't left disappointed.​

After a year together - and what a year - Spencer Matthews decided it was time to call it quits on his relationship with Louise Thompson.

And so we were treated to one of the worst break-up chats we could imagine. By the river, of course.

It started off hostile and descended into cruel. Louise finally realised they'd been "wasting [their] time" together and called Spencer "the biggest sociopath" she'd ever met.

Not one to be outdone, Spencer then laid it out simply: "I was once in love with you and now I'm not."

After she accused Spencer of having no respect for her he told her: "It's f**king hard to respect you when you allow me to cheat on you.

"Go home and cry your fucking eyes out."

Wow Spencer, wow.
Speaking to his "boi" Jamie Laing later in the show, Spencer actually admitted that he had more respect for Louise than ever before after she tried to hit him.

Meanwhile, loveable Binky was sharing some girly chats with her new pal Lucy Watson. Lucy had some news - she and Jamie may have hooked up in the hot tub in Vebier...well, they did.

We're starting to think Francis Boulle has some sixth sense for picking up on when someone has cheated. His Boulle sense must have been tingling as he skateboarded his way over to let Lucy and Binky know that Jamie has a girlfriend, Tara - and they were together when they were skiing, too.

Lucy kindly informed him of Jamie's indiscretions. Luckily for Jamie, although Francis has a tendency towards looking out for the ladies, he kept the news from Tara and warned Jamie what Lucy had said.
It's hard to tell with Lucy, but it seems like a strange lie to tell when you're trying to convince people you're not a boyfriend-stealing b**ch and yet Jamie is "sure [he'd] remember" if something had happened.

Not very convincing, Jamie.

We spent a decent part of the episode wondering if Lucy would spill the beans to Jamie's young, innocent girlfriend - there was a collective sigh of relief when she kept it to herself.

We're not sure we could have handled that drama on top of the Spencer-Louise split.
Elsewhere, the questions we've been asking about Ashley and Ollie Locke's relationship are finally being addressed: How are they a couple when he just appears so gay?

Well, the questions weren't quite as blunt as that, but Ashley did stumble across one of Ollie's special DVDs and had a meeting with Cheska Hull to ask about his sexuality.

Cheska let the cat out of the bag at break neck speed and later in the show we witnessed a conversation between Ollie and Ashley that would have been awkward with or without the cameras.

After Ollie jokily suggested she borrow the DVD, Ashley requested they change the subject. Not sure how long this relationship's going to last...

But at least it's a little less dramatic than Spencer and Louise's, which turned even uglier at the end of the episode.

It ended with Louise throwing accusations at Spencer that he had once again cheated on her, this time in her bed!

As is standard, he denied it completely but for once Louise was having none of it.
She told him in no uncertain terms: "You've shot yourself in the d*ck this time."​​
Although we think Louise would be best off having some time alone to recover from her year with Spenny, by the look on Andy Jordan's face when he found out she was single again, it doesn't seem that likely.
To be fair, we'd totally say yes to Andy Jordan.​​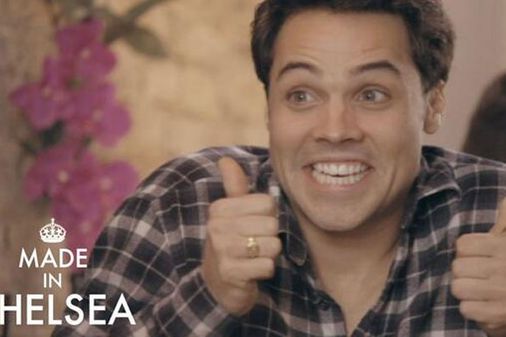 © Channel 4
Andy Jordan learns Louise is single!