Miley Cyrus was rumoured to be getting it on with fellow young star Justin Bieber after the two were spotted getting flirty at an LA club.

But Miley, 20, has since shot down all speculation, insisting that her on-off engagement to Liam Hemsworth is very much on.

According to TMZ, the bleach blonde singer and 19-year-old Justin were partaking in some pretty "hardcore flirting".

They were also spotted leaving together at 2am.

Despite this, when asked about the rumours on The Kane Show, she said: "I'm engaged! I'm engaged. That is impossible."

In fairness we can imagine Miley is probably a bit of a flirt on a night out.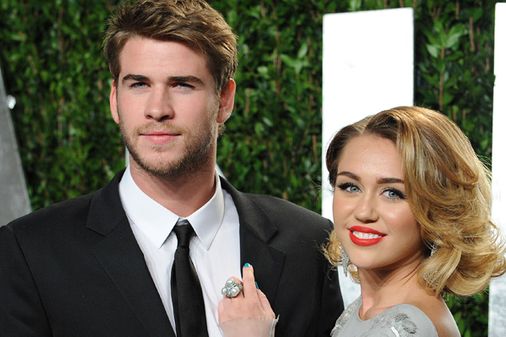 © Getty
Liam Hemsworth and Miley Cyrus
The radio show host also asked Miley about the recent negative attention she has received from troubled child star, Amanda Bynes.

The one-time actress branded Miley "ugly" and told fans she thought her actor fiancé Liam was the "most gorgeous man on the face of the earth."

Awkward...

Miley chose to take the high road with her response.

She said: "I think it's all so sad, that I don't want to add any fuel to that fire. Because it's really so sad to me."

Not one to shy away from her own fame, she added: "I was rooting for her comeback until she started attacking me, and I just thought it was hilarious that she mentioned my name the moment I was the worldwide trending topic on Twitter."

She concluded: "It's just funny the moment you're a trending topic how many people want your name to come out of their mouth, so somehow they can associate and maybe they can become a trending topic."

Miley is currently breaking back into music with this single:
What do you think of Miley's single? Tweet us @sofeminineUK