Nick Grimshaw doesn't like to be asked about his best mate Harry Styles.

The Radio 1 breakfast DJ spends a lot of time hanging out with the One Direction star, which inevitably leads to curiosity around their surprise friendship.

When asked about Harry by teenagers as part of a Radio 1 Q&A, Nick told them he's "lovely", but went on to explain: "I think he gets so much attention in everything he does.

"People are generally obsessed with him, it is like, 'Harry brushes his teeth'. Wow.

"It's so boring to be asked about him, I just think it makes me look a d***head because I'm there saying, 'I know Harry Styles'."

Nick, 28, and 19-year-old Harry only became friends last year but have grown so close they've even been known to share clothes.

The pair partied all night after the BRITs earlier this year and made the not so wise decision to head straight to do Nick's radio show the next morning.

© Getty
Harry Styles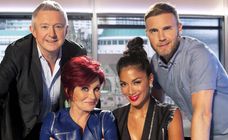 They're often snapped out on the town together, which of course attracts no end of attention from the public - but celeb veteran Nick knows Harry can handle the spotlight.

He told Heat magazine: "He's such a pro at these things - he does it all the time. I can't give him any advice on being famous, can I?"

A friendship with Harry has some serious perks - Nick was recently able to take five of his mate's kids to a One Direction concert.

He said: "One of them left her jacket in One Direction's dressing room, so afterwards I said, 'I'll get Harry to bring it home.' Then all the kids at her school were trying to buy her coat off her!

"They were like [shrieking], 'WE'LL GIVE YOU TWO GRAND FOR YOUR COAT!' and afterwards they were smelling the coat and rubbing it on their faces."

But Harry isn't Nick's only A-List mate - he counts Alexa Chung and Pixie Geldof amongst his best friends and is always at celeb bashes.

Nick added: "I took my mum to a house party at Kate Moss' house once! My mum's in her late sixties and there's this amazing picture of us with Kate climbing on her! My mum loved it. We left at 6am!

"She'd been in hospital over Christmas, so I said, 'When you get better, come and visit me in London and we'll go out.' It was Fashion Week and I had to DJ at this big party but there was only room in the DJ booth for me.

"So my mum said, 'OK, well I'll just sit on the table.' A few minutes later, I looked down and she was sat with Kate Moss and Rihanna! My mum has no idea who anyone is! And she's there dancing with them, giving it the big'un and pretending to walk the catwalk!"