Nigella Lawson has been snapped leaving the home she shares with husband Charles Saatchi after photos emerged of the married couple arguing.

In the shocking snaps, art collector Charles appears to grab Nigella round the throat during their meal at London fish restaurant, Scott's.

The celebrity chef looked shocked by the attack at the eatery, where they sat on their favourite outside table.

Onlookers claim Charles shouted angrily at his wife, squeezing her neck four times - at first with just one hand, then with both.

Nigella, 53, was clearly petrified, nodding intently as the conversation grew more heated before she reportedly broke down in tears.

One witness told the Sunday People about the feud: "It was utterly shocking to watch.

"I have no doubt she was scared. It was horrific, ­really. She was very tearful and was ­constantly dabbing her eyes.

"Nigella was very, very upset. She had a real look of fear on her face. No man should do that to a woman.

"She raised her voice and got angry but at the same time was trying to calm him down, almost like you would try to calm down a child."
The onlooker went on to claim that Nigella kissed her husband on the cheek in an effort to pacify him.

They added: "The kiss was a strange thing. He was being ­intimidating, ­threatening.

"And yet she kissed him. She ­appeared to be a woman who loves him but was clearly unable to stop him being abusive, ­frightening and ­disrespectful to her."

Charles, 70, - who's become increasingly reclusive in recent years - then stormed off and left his upset wife at the table of the Mayfair restaurant.

After the photos emerged, Nigella appeared to move out of the £12million Chelsea flat she shares with the advertising tycoon.

She was seen clutching a suitcase as she escaped in a taxi with her 17-year-old son, Bruno.

The Met Police have said: "Inquiries are in hand to establish the facts of the incident."

And last night, the restaurant said: "The staff at Scott's are aware of the allegations in the media today but did not see anything untoward happen within the restaurant."

Nigella wed Charles in 2003 - he is her second husband, while she is his third wife.

The Domestic Goddess has previously admitted that she and Charles have fiery rows and even claimed he was "an exploder".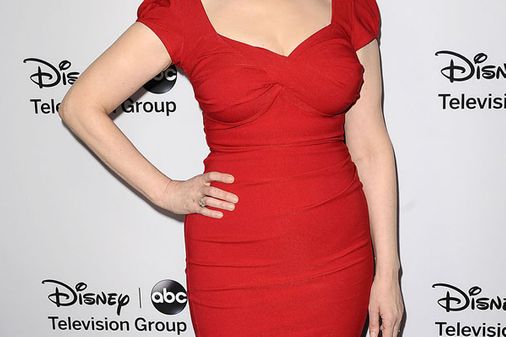 © Getty
Nigella Lawson