We won't lie - the One Direction movie has us more excited than any other film so far this year.

One Direction: This Is Us is described as a part docudrama and part 3D concert film, which tells the story of the band's members Niall Horan, Zayn Malik, Liam Payne, Harry Styles and Louis Tomlinson.

It'll chart how the group were put together by Simon Cowell and co. on The X Factor 2010, meet their families, explore their dreams and delve deep into their meteoric rise to fame - and what it feels like to experience such a huge life change.
​
Morgan Spurlock - the critically acclaimed documentary maker behind Super Size Me - is directing the movie.
​
He's also producing the film, alongside Simon Cowell, Adam Milano and Ben Winston.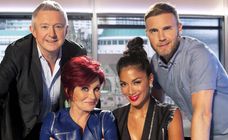 1D This Is Us is cited as a "love letter" to One Direction's loyal fan base, who can follow updates of the movie via the Twitter account @1DThisIsUs.And it's fair to say the boys' admirers are pretty excited.
​
One tweeted: "Cant the movie cme earliy! I have started counting seconds! Cant wait to see the boys!


xx."

Another wrote: "Can't wait to see the movie, aint gonna wear make up that day because I know I'll cry it all off from what I've heard is in it."

One Direction are undoubtedly the biggest pop band of the moment after proving hugely popular around the world.

Most notably, the band have found more success in America than 60s rock band The Beatles.
​Last year their debut single What Makes You Beautiful reached No. 28 in the Billboard Singles Hot 100 in its first week of release - giving them the highest debut for a British act in the US charts for 14 years.
​They're currently on their sold out Take Me Home tour and the band also have their name to hordes of merchandise and a number of pop-up shops around the world.
​It's not surprising, then, that their names feature on The Sunday Times' Rich List.
​The boys have raked in £25million between them since finding fame, leaving them with a comfortable £5million each.
​It was Adele who was No.1 in the newspaper's young musician list with her eye-watering £30million fortune and though 1D weren't amongst the top earners because of their individual earnings, it's not bad for a group of young lads from The X Factor.

© Way To Blue
One Direction: This Is Us