Reese Witherspoon will surely be spending today hiding under the covers, as the video of her arrest has hit the press.

The Hollywood actress was handcuffed and briefly jailed after the incident last month, which was triggered when her husband Jim Toth was arrested for driving under the influence of alcohol.

The shocking video footage, seemingly taken from the patrol car's dashboard camera and posted on TMZ, shows Reese shouting at a police officer in her worse for wear state.

In the early hours of 19th April, Reese disobeyed a policeman's order to stay in the car.

She claims to the officer: "I'm pregnant and I need to use the restroom!"

Reese, 37, gets out of the car and is arrested, before shouting: "Do you know my name sir?"

When he tells her he doesn't need to know her name, she responds: "You don't NEED to know my name?

"You're about to find out who I am."
The clip then shows Reese furiously accusing the officer of harassment.

She shouts: "I'm a U.S. citizen... I'm allowed to stand on American ground and ask any question I want to ask.

"You're harassing me as an American citizen. You better not arrest me."

Even more humiliating for Oscar-winner Reese is that her husband Jim seems rather embarrassed by her behaviour.

He tells the officer: "I'm sorry. I had absolutely nothing to do with that."
Reese has since pleaded "no contest" to charges stemming from her disorderly conduct.

According to TMZ, she was ordered by an Atlanta court to pay a $213 fine on the charge of 'physical obstruction of another'.

Reese was not in court to hear her lawyer enter the plea, but Jim was present to enter a guilty plea for driving under the influence.

The talent agent must perform 40 hours of community service and attend an alcohol education programme. He has also been placed on probation for 12 months.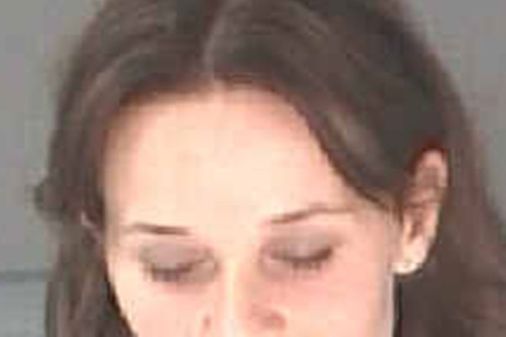 © Getty
Reese Witherspoon mug shot
Just hours before the video emerged, Reese appeared on Good Morning America for her first interview since the arrest.

She confirmed her claims she was pregnant were false and admitted she was very embarrassed by her behaviour.

The mum-of-three said: "It was just one of those nights - we went out to dinner and had one too many glasses of wine.

"We thought we were OK to drive but we definitely were not. We are just so sorry this happened. We know better than that. It's something that will absolutely never happen again.

"I had no idea what I was thinking that night. I saw him arrest my husband and I just panicked. I said all kinds of crazy things to the officer. I even told him I was pregnant. I am not pregnant!"

She added: "We are so embarrassed by it but we just had to tell them that when you make a mistake, you have to take responsibility. We were honest with them."