Kate Middleton is set to celebrate the 60th anniversary of the Queen's Coronation next week.

The event will involve all sorts of members of the Royal Family and may well be one of Kate's last public outings before giving birth.

The Duchess, 31, will be nearly eight months pregnant at this point.

The service will be held next Tuesday in London's Westminster Abbey with guests including the Prime Minister, David Cameron and both the Dean of Westminster and the Archbishop of Canterbury.

Kate's last official engagement is considered to be less than two weeks later on 13th June, when she's expected to appear at the naming of a ship in Southampton.

It's reported that Kate's due date is exactly one month later, on 13th July - though this has not been confirmed by the Palace.

With so little time left, many are expecting - and we're definitely hoping - it won't be long before Kate's putting her feet up.
Although it has also been made clear that since the Queen has officially announced cutting back on international visits in the future, Kate won't have long after the birth of her child before she has to get back to work.

The new mum will be expected to return to her public duties just five months into her baby's life.

Royal correspondent Robert Jobson has said: "Kate and William will step up to the plate, with 2014 seeing them throwing themselves into international duties, particularly in the Commonwealth countries.

"They're expected to have just five or six months off as new parents before their workload increases dramatically."

With comparisons frequently made between Kate and the People's Princess Dianna, Robert added: "Just as Diana had to cope with a baby and an increase in duties, so will Kate.

"She may take the baby on tour to Australia and New Zealand, just as Charles and Diana did with William.

"Solo engagements abroad are common with Royals and there will be occasions when this happens."

Sounds like she needs to make the most of the last month she's going to have off before the baby arrives!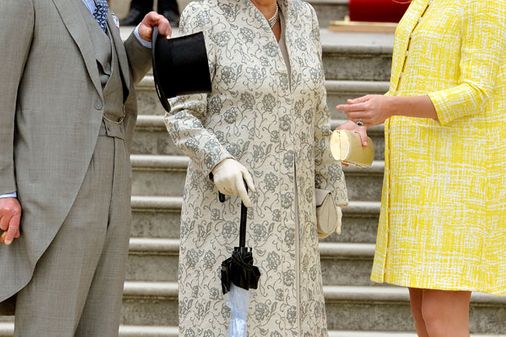 © Getty
Kate Middleton with Charles and Camilla