Rihanna is rumoured to be expecting a baby with boyfriend Chris Brown.

​A number of US websites have sparked speculation that the singer's pregnancy is the reason she cancelled a string of dates on her Diamonds world tour this week.

The 25-year-old complained she was ill and has since been spotted making numerous trips to her doctor in LA.

And the star's recent out-of-character loose clothing - including a large baggy hoody and tracksuit bottoms - has done nothing to dispel the rumours.

Rihanna recently told Elle magazine about her plans for the next five years, revealing that she had babies on the mind.

She said: "I will probably have a kid.

"And I'm praying I can go on vacation for a good month. And I'll have set some things up so I don't have to tour for the rest of my life, even though I love touring.
"I want health and happiness in five years. I want to be healthy and happy."
Many of Rihanna's fans won't be happy to hear the rumours she could be pregnant as most don't approve of her relationship with Chris.​

The pair split back in 2009 after Chris, 23, beat Rihanna black and blue ahead of the Grammys.

But four years later, the Bajan beauty has managed to forgive him and they seem very much in love once again.

Rihanna revealed to Elle that they managed to rebuild their relationship by working on their friendship.

She continued: "Right now that's just what we want, a great friendship that's unbreakable. Now that we're adults we can do this right. We got a fresh start and I'm thankful for that."
​But sources at Hollwoodlife.com have dispelled the rumours the couple are set to become parents, insisting Rihanna is "just sick".
​The insider added: "Sorry, not this time. She's not pregnant!"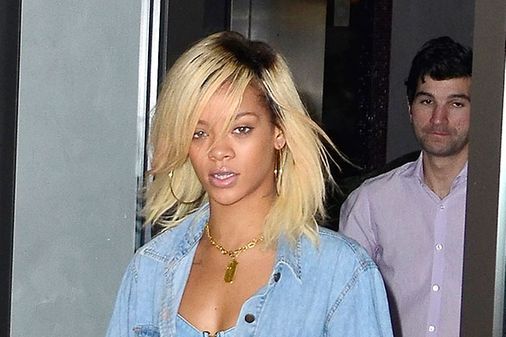 © Getty
Rihanna