Rihanna has hit back at Liz Jones after the journalist claimed the singer is a "toxic role model".

Liz held nothing back in her spiky article, which was posted on MailOnline today and entitled: "Pop's poisonous princess: Glorying in drugs, guns and sleaze, Rihanna's toxic role model for her army of young fans, says LIZ JONES."

The controversial writer had a lot to say about 25-year-old Rihanna - especially her recent selfie on Instagram.

Liz wrote in her article: "Photographed with two giant, phallic spliffs in her red-lipsticked mouth, Rihanna posted the picture on Twitter for her 30 million followers to enjoy.

"Most of these 'followers', of course, are young girls. Those same girls, some as young as eight or nine, have been packing out her concerts at Twickenham this month, as part of her sell-out UK tour.

"They writhe and pout along to her suggestive lyrics in a disturbing mimicry of adult sexuality."

© Instagram
Rihanna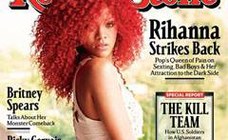 She added: "Of course, these little girls don't realise there is anything wrong with what they are doing - they just want to copy the chart-topping star - who this year became the first singer ever to have had ten No.1 singles in the U.S. Billboard Chart.

"But if only she could be a better role model for young women."

But Liz believes that worse than this is Rihanna's decision to get back together with her now ex-boyfriend Chris Brown, who assaulted her - leaving her black and blue - back in 2009.

She also refers to the fact RiRi "promotes drug-taking, drinking and the sort of fashion sense on stage that surely invites rape at worst, disrespect at least."

Add to this Liz's scathing words about the singer's "tattoos, her false nails and fake hair, her bogus bad-ass shenanigans" and Rihanna is understandably rather miffed.

In response to Liz's article, the singer posted an unflattering - perhaps photo-shopped - photo of Liz, along with a long, angry caption on Instagram.

© Getty
Chris Brown and Rihanna
Rihanna wrote: "LOL!!!! My money got a bad habit of pissing people off!! If you sincerely wanna help little girls more than their own parents do, here's a toxic tip: don't be amateur with your articles, you sound bitter!

"What's all this about hair and nails and costumes and tattoos?? ....That shit ain't clever!!! That shit ain't journalism! That's a sad sloppy menopausal mess!!!

"Nobody over here acts like they're perfect! I don't pretend that I'm like you, i just live... My life!! And I don't know why y'all still act so surprised by any of it!!

"'Role Model' is not a position or title that I have ever campaigned for, so chill wit dat!

"I got my own fucked up shit to work on, I'll never portray that as perfect, but for right now it's ME!! Call it what ya want!!

"Toxic was cute, Poisonous Pop Princess had a nice ring to it, just a lil wordy! And P.S. my first American Vogue cover was in 2011...APRIL!!! #ElizabethAnnJones."

Should Rihanna be a better role model? Let us know what you think - tweet us @sofeminineUK.

© Instagram
Liz Jones