It seems like those One Direction boys can't deliver a performance without giving us something to talk about.

This time the focus was on Harry Styles, who left us guessing about his feelings for ex-girlfriend Taylor Swift.

The band was performing at the Newcastle Metro Radio Arena last night as part of their Take Me Home tour, when it was thought Harry said Taylor's name during the heartfelt love song Little Things.

Just as Harry finished up his solo - with the words "I'm in love with you" - he can be heard saying Taylor's name.

But fans will be relieved to know that it's thought to have been one of the other lads pranking him - Niall Horan's reaction seems to give the game away.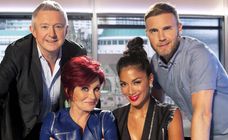 The boys are no strangers to practical jokes - just a few nights ago at the O2 Arena, Harry had his trousers pulled down by joker Liam Payne.

During the 19-year-old's solo in What Makes You Beautiful, Liam came up behind him and yanked down his tight black jeans.

The crowd got quite an eye-full before Harry was able to pull them up again.

Luckily for him he wasn't wearing any embarrassing underwear!

It seems Liam likes to see Harry lose his clothes - during a gig in Chicago last year the cheeky 19-year-old ripped open his shirt.
Those One Direction boys have really got to have their wits about them!​

© Getty
One Direction