Timing your turkey whilst prepping your parsnips can seem like a pretty overwhelming task, but Olia says there are simple things you can do to help yourself before and during the big day. Knowing how to cook a Christmas dinner isn't something reserved for professionals or full-time foodies, in fact, just taking a moment to step back and make a plan can make a huge difference.
"I think the most important thing is to have a little timings plan, that's what we were always taught. If you have a really big job on, which Christmas dinner usually is, then it's really good to write things down to see what you need to do when, and to do as much prep as possible the day before," she says.
Don't forget you can get your family involved here, it doesn't have to be a one woman show. Just make the most of your time. "Try to do as much veg prep as possible the day before. If you have them cut already and maybe a little part cooked, then roasting them will take a lot less time," Olia advises.
Then, when you actually look at things on your to-do list, Olia says it becomes pretty simple, even, enjoyable - who would have thought? So here's the top tips and tricks to the perfect Christmas dinner.
1. Turkey heaven
We've actually had nightmares about how the turkey is going to turn out in the run up to Christmas. Too dry? Too pink? Too black? So if you're as mad as we apparently are, Olia is here to help.
She says the problem with turkey is that no matter what you do, "the legs take a lot longer to cook than the breast. So by the time the legs are cooked, the breast will become dry."

A pretty big problem you might think? Well no. All you have to do is a little bit of clever carving and your turkey will taste like heaven in bird form.

"​Get the crown and roast it separately. Then with the legs, you can confit them instead, which is basically getting a LOT of goose or duck fat and cooking them slowly in that. The meat will just fall off the bone and it's going to be the most luscious turkey meat you will have ever eaten," she suggests.

"​For the crown all you need to do is roast it in the oven and get some streaky bacon or some kind of fat on top of it, roast it for not very long if you haven't got the legs, an hour or maybe just under an hour depending on the size."
2. Perfecting your potatoes
Part of the beauty of a really good roast potato is feeling the crunch as you bite down into it. But getting the same kind of crispiness that you find in good restaurants does have a knack. The trick Olia suggests, is part-boiling with a little extra trick.
"Everyone loves a good roastie and part-boiling them the day before makes a huge difference to the taste. All you have to do is peel them, cut them, boil them for about 10 minutes, then fluff them in in a colander, as the more edges you get on the potatoes, the crispier they get. Sit them in the fridge overnight to settle those edges."

You need to get your timing right when preparing potatoes, boil them for too long and they will fall apart, boil them too little and you won't get the same crunch when you cook. Just keep checking them with a fork as they boil, if it goes part way through - take them off the heat.

"The next day all you do is roast them and it should take no time at all. Put your oven to about 200 degrees, then place your baking tray in with some goose fat, beef dripping or oil and heat it up really well so the oil is popping - about 5 minutes. Then carefully lower the potatoes in so that they sizzle. You should have perfect roasties in about 20 minutes," she says.
3. Brussel sprouts
Love them or hate them, Brussel sprouts are part and parcel of Christmas dinner and they're something Olia wants everyone to enjoy. "People are so scared of Brussel sprouts but I think to do something fun with them, or to convert a sprout hater to a sprout lover, is quite an interesting task," she says.

There's no doubt about it, sprouts are a foodie challenge.
She says the reason why many people are so against them is because they've been overcooked which makes them smell and taste awful. If you cook them correctly, things could be a whole lot different.

"What I recommend doing is taking each sprout and shredding it from raw as you would do with a normal cabbage and stir-fry them with some chorizo in a pan on a really high heat. It literally takes two minutes. Just chop some chorizo and start cooking it first, then add your sprouts and just stir-fry them together. Finish it off with a squirt of lemon juice."
If you're not a meat lover then you could try this more traditional approach to the Brussel sprout. ​

"Just trim your sprouts, slice them, and part-boil them again for about 10 minutes. Drain them, then heat a griddle pan until it's smoking hot. Toss your sprouts in a bit of mild oil and then grill them cut-side down so they're still going to be firm but you're going to have that smoky flavour from the griddle."

"​Next you make a brown butter, which is literally just cooking your butter until it starts going golden and smells nutty. Then just before you're ready to serve, dress them in this butter and toast some flaked almonds and put those on top."

We don't know about you but we're salivating right now. Pass us the sprouts!
4. Cranberry sauce
Not everyone is going to have the time to make their cranberry sauce for themselves. But if you're a from-scratch Sally then Olia has got a little something up her sleeve to set yours apart from the shop's.
"​When making cranberry sauce, start with a sugar syrup of sugar and a little water first before adding the cranberries. Adding sugar later will create a lumpy consistency," she says.

Who knew?!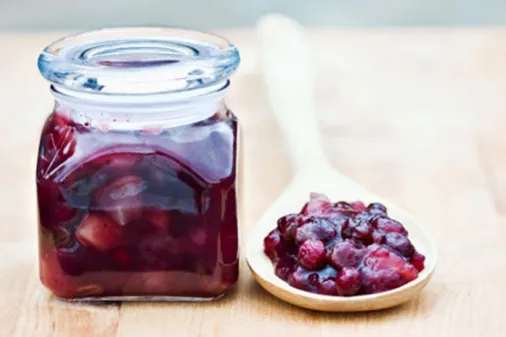 © Thinkstock
Cranberry Sauce
5. Stuffing
Stuffing can leave many people stumped but before you go reaching for the supermarket stuff, just incorporate these few ingredients when making your stuffing to transform it from dry to delicious.

Olia says: "For me personally, it's bacon that really makes a huge difference to stuffing. Then it's all about having lovely sourdough breadcrumbs, fresh herbs and loads of lemon zest in the mixture, then cooking it inside the bird so it gets all the juices dripping into it, so it will be even moister."
Some say that any old bread will do but Olia thinks that investing that bit extra in a nice sourdough can really make a big difference.
6. Gravy
The trick to great gravy lies in the juices from your meat and good quality stock. For the best result Olia suggests going down to your butcher and asking for chicken stock beforehand.

"All you need to do when you're done cooking your meat is get your juices into a pan. You then add the chicken stock to the meat juices, and if you've roasted it with any garlic, onions or shallots, you mush all that stuff into the gravy too, adding a little fresh rosemary," she says.

Mushing stuff? That's our kind of Christmas dinner cooking.

The next thing to do is to add a roux which Olia states you can make by "just heating a couple of tablespoons of plain flour and adding a bit of chicken stock to loosen it."

Now comes the easy part, "Heat this for a while until it's bubbling and reduces, then you strain everything through a sieve and the gravy you get will definitely be showstopping. If you're cooking and resting beef, add the juices from the foil for maximum flavour," she advises.
7. Bread sauce
Bread sauce can easily go wrong. No one likes a flavourless lumpy sauce, so what's Olia's secret for perfection?
"Brioche bread sauce is a sweeter alternative to using white bread, also mace instead of nutmeg balances the flavour nicely," she says. Try these simple flavour swaps and no-one will be able to resist!
8. Vegetables
The secret to mastering the rest of your roasted veg lies in the frying pan. OIia says: "When roasting vegetables, put the oil onto a baking tray and put it in a hot oven for 5 minutes before adding the vegetables for added crisp."
Oila says that like your potatoes, you can parboil your carrots too to get them extra crunchy and crispy. If you want to pay extra attention to your parsnips, rather than drenching them in honey or just boiling them to oblivion, you could toss them with some of these tasty ingredients: "Cook your parsnips in a moderately high oven and toss them in a load of finely grated parmesan, and then they will have nice, salty, crispy bits on the outside," she says.

We'll definitely be trying this!
9. A simple starter
Cooking a three course meal is no ride in the park, so Olia suggests this simple starter for a quick and easy dish which doesn't compromise on taste.

"Buy some really good quality smoked mackerel, tear it with your hands and mix it with a little crème fraiche, lemon and capers. That's it really, you've got a really good mackerel pate. All you need to do on the day is heat one tablespoon of oil and fry your capers just for garnish and people will be like 'Oh my God that's so impressive' – and it only took you ten minutes," she says.
Serving a delicious starter on top of making the turkey with all the trimmings doesn't seem that unachievable now does it?
10. Cheeseboard
Last but not least, here's how to have the perfect Christmas cheeseboard.

Juliet Harbutt from Port Salut says: "Order your Stilton a few weeks in advance, as you would a turkey. Ideally you want to buy cheeses that you've tasted and had cut at the deli from the original cheese. Buy your soft pre-packed cheeses as near to their best before date as possible for the best taste."
OIia will be running a Recipe Kit Christmas dinner master class on the 15th December to help take all the hassle out of Christmas cooking.
Had a Christmas dinner nightmare before? Tweet us at @sofeminineUK and share the pain.