Sources claim that Ashton Kutcher will announce his engagement to Mila Kunis as early as next week, once his divorce from Demi Moore becomes official.

It's been reported that the 35-year-old has been desperate to propose to the dark haired beauty, but he hasn't been able to due to two years of legal wrangling with ex-wife Demi.

A source told The Sun: "They're all happy and the papers are signed and with the lawyers now, so Ashton's free to officially propose to Mila.

"Both of them want to marry and have children."

Demi and Ashton have been locked in bitter divorce and spousal negotiations since their split, but now things seem to be finally reaching a resolution.

Friends of Ashton say that once everything is done and dusted, the Two and a Half Men star will most definitely want to put a ring on 30-year-old Mila's finger as soon as possible.
Mila was reportedly feeling very frustrated of their two-year lengthy divorce proceedings, which were said to be due to Demi allegedly seeking a large settlement, despite claims that she is worth $94 million.

In order to finally end their legal battle, reportedly Ashton agreed to part with a large chunk of his own multi-million dollar fortune, as well as shares in his tech businesses.

Additionally Demi is said to have backed down slightly over her demands, after a soul-searching trip to India and taking up yoga and meditation.

An insider admitted: "Demi and Ashton's divorce has cast a cloud over his and Mila's relationship because it's dragged on for so long.

"Thankfully Demi's turned a corner. She's no longer bitter and she wants the divorce over and done with as soon as possible so she can get on with her life too.

"She's agreed to a settlement of several million and some shares in Ashton's various technology start-ups after he persuaded her to attend a tech conference with him to see for herself how much they'll eventually be worth."

Following her split with Ashton amid rumours of his infidelity, the 50-year-old Hollywood actress appeared to go off the rails and was even hospitalised and sent to rehab for undisclosed reasons.

Currently Ashton is filming in China, but sources say that he's planning to whisk the Black Swan star away to Hawaii to pop the question as soon as he is able.

Previously the pair's That '70s Show co-star Laura Prepon revealed this summer that she's going to be a bridesmaid, adding: "They're totally going to marry, we just don't know when."

Do you think Ashton and Mila should tie the knot? Tweet us @SofeminineUK!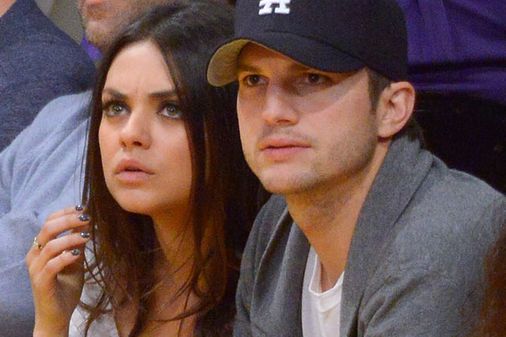 © Getty
Ashton Kutcher and Mila Kunis