It's the most talked about TV show of the year, so it's no surprise Breaking Bad made good at last night's Emmy Awards.

The hard-hitting show - in its final series with just one episode left to air - won the prize for Best Drama Series.

Not only that, but Anna Gunn - who plays Skyler White - took home the Best Supporting Actress In A Drama award at the ceremony in LA.

The 45-year-old fought off competition from Downton Abbey's Maggie Smith and Game of Thrones star Emilia Clark.

Breaking Bad's creators think our new online media habits are to thank for their programme's success.

Vince Gilligan said backstage: "I don't think our show would have even lasted beyond season two if it wasn't for video on demand, and also the internet component of it where folks get to chat.

"It really has held us in good stand. It's a bold new era."
Surprisingly, though, Bryan Cranston - who plays chemistry teacher turned meth cook Walter White in the show - was beaten to the Best Actor prize by The Newsroom star Jeff Daniels.

Similarly, his sidekick Aaron Paul - aka Jesse Pinkman - looked disappointed when he lost out to Boardwalk Empire's Bobby Cannavale in the Best Supporting Actor category.

Aaron brought along two dates to the event - his wife and his mum, Darla.

He said of his mother: "She is just so incredible and always has been so supportive. She literally threw me out of the house when I was 17 and said, 'Good luck.' She always knew I wanted to do this."

It was a disappointing night for Brit period drama Downton Abbey, who were nominated in 11 categories but took home just one award.

The show has enjoyed great Emmys success in previous years but last night was only credited for its music composition.

Hugh Bonneville missed out on the Best Actor prize, while Michelle Dockery was beaten by Homeland's Claire Danes in the Best Actress category.
Meanwhile, Modern Family was given the nod for Best Comedy Series, while The Big Bang Theory's Jim Parsons won the prize for Best Actor In A Comedy Series.

The Voice won Best Reality Show Competition and biopic Behind The Candelabra got the nod in the Best TV Miniseries Or Movie category.

Michael Douglas won the prize for Best Actor In A TV Miniseries Or Movie for his role as Liberace in Behind The Candelabra.

In his first ever Emmy Awards acceptance speech - despite five previous nominations - he paid tribute to his co-star Matt Damon.

He also thanked his wife Catherine Zeta-Jones, from whom he recently separated, before controversially adding he hoped he'd be "allowed" to see his son Cameron "soon".

Also honoured at the ceremony was late Glee actor Cory Monteith, who died of a drug and alcohol overdose in July.

His co-star Jane Lynch said: "Cory was a beautiful soul. He was not perfect, which so many of us here tonight can relate to.

"His death is a tragic reminder of the rapacious, senseless destruction that is brought on by addiction."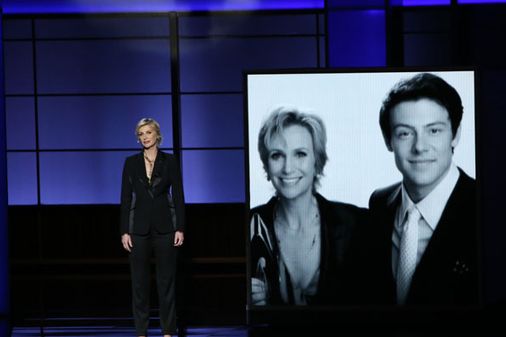 © Getty
Jane Lynch pays tribute to Cory Monteith