Liam Payne has had a tough few months.

Amid all the excitement of One Direction's This Is Us movie release and their world tour, Liam has been through a fire at his London flat and now a family death.

The singer had been less chatty with fans than usual on Twitter and also reportedly stormed past a crowd of admirers outside his hotel gym in Australia, prompting many to wonder what was wrong.

It transpired that while he's touring 10,000 miles from home Down Under, his family have gathered in England to mourn the loss of Liam's grandfather.

Upon finding out the sad news, #RIPGrandpaPayne and #StayStrongLiam quickly started trending on Twitter.

Liam, 20, later posted on the social networking site: "Thanks for everyone's support at this hard time obviously this has been a tough few weeks for me I've never been through anything like this."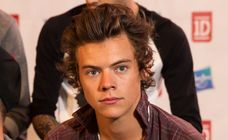 The singer's loss comes just a month after a fire broke out on his flat balcony and seriously injured his friend.

Andy Samuels suffered 20% burns to his chest, legs and arms after an outdoor heater he was refuelling exploded.

He was rushed to intensive care and Liam made regular visits to his close pal's bedside while he got better.

Furthermore, in July, Liam made no secret of the fact he was struggling with life as a member of one of the biggest boy bands in the world.
He spoke out to 1D fans on Twitter after he reportedly felt "hated" by a number of the band's admirers.

He wrote: "Hey everyone, saw some signs about me tonight that where a bit upsetting dont know whats happend but i hope I'm good with you guys and I hope you know how grateful I am that you guys have done all of this for us because i genuinely can't believe how lucky I am to be here.

"It's amazing that you guys have created all this for us, non of us can believe the stuff that we get to do everyday and it's all down to you guys spending time on here spreading the word about us and being so dedicated spending all your money trying to make it to our shows an stuff.
"Thanks to everyone that has been so far every crowd has litterally been amazing and it's so tough to pick a favourite.

"Like I said I hope everything's ok and I know a lot of people may not like me right now and feel a little under appreciated as we dont get to come out and meet u guys all that much i wish it was easier, I do truly appreciate you guys tho you have changed my life and i could never thank you enough I hope in time it will all be cool.

"Love from me."

Liam's sister Ruth - or Roo Payne - also took to Twitter to ask fans to show their love.
She added: "If only the people who made the signs understood how much pressure those boys are under."

Add to all this the fact he made it quite clear he wants to settle down with a family in private when he's older, and we can't help but wonder whether Liam is struggling in the spotlight.

© Getty
Liam Payne