Rihanna has been spotted with rapper A$AP Rocky at the Alexander Wang New York Fashion Week after-party.

The musical duo were spotted getting close and talking one on one.

They were well protected by their army of bodyguards while they hung out in private.

The pair first met earlier this year when he supported RiRi on part of her Diamonds world tour.

The Mirror reports a witness saying: "They were talking really closely and bodyguards were stationed all around them so no one could get pictures."

Umbrella star Rihanna shunned fans who approached her, telling one: "I'm just chilling, I'm too f*** up and drunk, no pictures."

According to US reports the couple have been spending a lot of time together recently, with her staying with him in his New York hotel.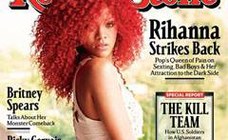 It's been months since Rihanna split from her on-off boyfriend Chris Brown but it doesn't look like she's lost her taste for bad boys.

A$AP, who has previously dated Iggy Azalea and model Chanel Iman, has his own history of bad behaviour.

Before landing his record deal two years ago A$AP - real name Rakim Mayers - made his money dealing drugs.

He has also been subject to numerous claims of physical abuse from audience members.

Last week a woman claimed he slapped her at a US gig and earlier in the summer an onlooker in Sydney claimed the same thing.

He was arrested last July after being involved in a fight for which he agreed to a plea bargain.

Will Rihanna ever be done with the bad boys? Is A$AP Rocky Rihanna's new bad-boy boyfriend? Tweet us @SofeminineUK

© Getty
A$AP Rocky and Chanel Iman