There's more to Katy Perry than meets the eye. Over the years, the singer has become a sex symbol that's all about self-empowerment. Sounds counterintuitive, right? Not to Katy!

Before her controversial Japanese Geisha-inspired performance at the American Music Awards in November, Katy sat down with GQ to talk about everything from saggy breasts to President Obama.

When she was a young girl raised by two Pentecostal traveling ministers, Katy wished for just two things: to be a singer and to be well-endowed.

"I lay on my back one night and looked down at my feet, and I prayed to God. I said, 'God, will you please let me have boobs so big that I can't see my feet when I'm lying down?'" Katy remembered.

Little did Katy know what would happen once puberty struck. "God answered my prayers," Katy said. "I had no clue they would fall into my armpits eventually." Gravity is so mean!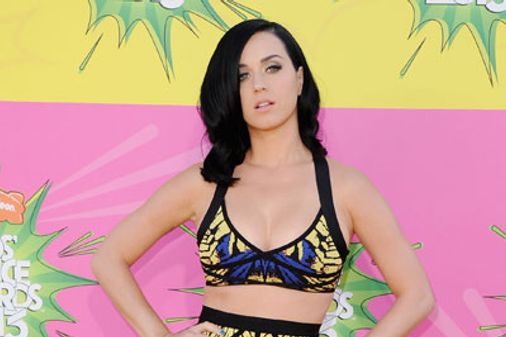 © Getty
Katy Perry
Though she always wished for curves, Katy swears she has never let herself go under the knife for her fantastic figure. "I've never had any plastic surgery," she says. "Not a nose, not a chin, not a cheek, not a [breast]. So my messages of self-empowerment are truly coming from an au naturel product."

The "Unconditionally" singer also admitted to GQ that she has never smoked weed before. At the interview, the area backstage smelled faintly of "cannabis sativa." "Everyone is high!" Katy giggled. "The weed—I'm not friends with it…I can't do that stuff. I'd be like in the corner: 'Are you trying to kill me?!'"

Katy is not only taking the music world by storm, but making friends in all the high places. In 2012, Katy performed at a re-election rally for President Obama in Wisconsin, and she joked, "I might have won Wisconsin for him."
The singer hopes to grow her relationship with the president, especially since she has a very serious existential question for him. "I see everything through a spiritual lens," she said. "I believe in a lot of astrology. I believe in aliens…I look up into the stars and I imagine: How self-important are we to think that we are the only life-form? I mean, if my relationship with Obama gets any better, I'm going to ask him that question."

Katy didn't hold back when talking about her love life, either. She revealed that her relationship with fellow singer John Mayer has been all about her journey to mature. "I think that I needed to grow up," she said. "I'm just having a wonderful experience with a wonderful guy. There's no rush."
Still, we wouldn't mind seeing a pretty ring on that finger of hers sometime soon!
What are your thoughts on Katy's tell-all interview? Tweet us @sofeminineUK.