Katy Perry has opened up about her divorce from Russell Brand back in 2011, after only 14 months of marriage.

The Roar singer spoke to The Sunday Times about the split and the devastating effect it had on her, stating: "I'm not the kind of person who is always like 'what doesn't kill you makes you stronger.'"
"I was in bed for two weeks. I was pretty f***ed, yes. It hurt a lot – I got a good knock."

Katy's new album Prism, which is being released today (21/10) in the UK, is said to be considerably darker than her two times platinum album Teenage Dream, which included the singles California Gurls, Teenage Dream and Firework.

She also claimed she almost changed the name of her album to reflect its darker content.
"What I wanted to call this record at first was 'Adult Reality' because 'Teenage Dream' was so high on that cotton candy cloud, and then it's like I got punched in the face and kicked down the stairs a couple of times. So I had to face the reality that things are not always on cloud nine," says Katy.

"Unfortunately, although I had the outward self-identity I didn't have the inner kind, I hadn't built that up. My self-worth was in someone else's hands which is never a good idea, because it could be taken from you at any time. And it was, and it was shattered."

Speaking of the style of her new album, whilst appearing on Graham Norton Show, she said:
"The last album was very cartoony and over the top and this one is a little bit more vulnerable, raw and a lot more present. I think I'm finally okay accepting the information that I'm a grown up."

Katy has certainly demonstrated this with her teasers for the new album, which shows her attending a funeral for her infamous California Gurls dress.
However Katy is now thriving with her new beau rocker John Mayer and their relationship seems to be getting pretty serious, with many suggesting the pair could be getting engaged soon.

They are currently in London, enjoying the sights after Katy performed her hit single Roar on the X Factor last night.

Known for her crazy onstage costumes, the raven-haired beauty wore a tigress outfit with matching ears, joking: "I get to dress up like a big cat so I love this song. I feel grrr-eat!"

Have you listened to Katy's new album yet? If so, what's the verdict? Tweet us @SofeminineUK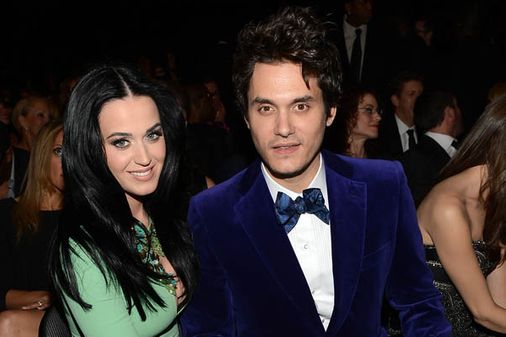 © Getty
Katy Perry and John Mayer