Liam Payne has been hailed a hero as his friend recovers in hospital after a fire at the One Direction singer's luxury flat.

Andy Samuels - a close pal of Liam's - suffered 20% burns to his chest, legs and arms after an outdoor heater he was refuelling exploded.

He's now in intensive care, but it could have been a lot worse if Liam didn't rush to help him.

Andy's step-dad Matthew Baker has spoken out to thank the 1D star for his quick thinking.

He said: "We are so grateful to Liam because he saved his life.

"The lantern just exploded as Andy was lighting it and he took the full force of the flames.

"Liam helped him by beating out the flames and dousing him with water. He acted quickly and swiftly."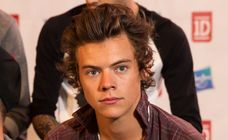 Matthew has been in touch with Liam, who was in the kitchen of his Canary Wharf flat when the fire broke out on the balcony.

He continued: "What happened was absolutely awful. My son is very poorly. I've spoken to Liam on the phone and he told me exactly what happened. He is very shocked himself.

"It's bad enough but it could have been a lot worse."
And Andy's 12-year-old sister Harriet has also paid tribute to the 20-year-old 1D singer.

She said: "I want to thank Liam for saving my brother."

After news of the fire broke yesterday, One Direction fans quickly started trending the hashtag "#prayforandy" on Twitter.

His girlfriend Daisie Smith updated worried Directioners on Andy's condition.
Her mum added: "It's a very ­traumatic and difficult time for everybody."

Andy and Liam grew up together in Wolverhampton and the boys were seen out celebrating the pop star's 20th birthday last week.

The fire is said to have destroyed 80% of Liam's balcony and took 35 firefighters to put out.

Two others - a man and a woman - have reportedly suffered superficial burns to their hands.

In 1D's film This Is Us, Liam reveals that if he wasn't a singer, his back-up career would be as a fireman. Seems he'd be pretty good at that.

© Getty
Liam Payne