Liam Payne was one of the few members of One Direction flying the single flag.

Along with fellow band mates Harry Styles and Niall Horan, Liam's been solo since splitting up with his on-off girlfriend Danielle Peazer.

The couple broke up back in May after the pressure of the spotlight became too much for them.

He told Fabulous magazine: "It's hard to keep on top of a relationship...obviously it wasn't happening for us."

Since then, Liam has shown little sign of sowing any wild oats - Hazza style.

He claimed: "I'm out of my relationship now, I'm single and having fun with the lads."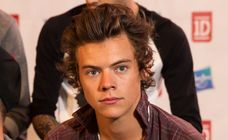 But it seems Liam has since changed his mind and is now dating Sophia Smith from his home town of Wolverhampton.

The 19-year-old and Sophia both attended St Peter's Collegiate, before X Factor shot him to super stardom.

The boys are always keen to keep any personal relationships under wraps...and we can understand why, what with their very loyal fan base.

Some spiteful Directioners have already started hurling online abuse at the young girl, forcing her to remove photographs she had uploaded with Liam.

There also seem to be fake accounts set up in her name since the news broke to devastated fans.
Nonetheless, Liam was apparently so keen to see his new flame that he recently flew her 5,000 miles across the world to watch 1D perform in LA.

The boys were finishing up the US leg of their tour with a show at the Staples Centre and Sophia had pride of place in the audience with Liam's family.

She was also spotted hanging out with the guys' girlfriends - Louis Tomlinson's lady Eleanor Calder and Zayn Malik's other half Perrie Edwards.

She was even seen accompanying Liam to a local tattoo parlour where he added to his collection.

A source told the Sunday Mirror: "Liam has really fallen for her. It's getting very serious, very fast."
With such a crazy lifestyle and fanatic followers, it's hard for the boys to know who to trust when it comes to girls.

The source added: "She's a sweet, normal girl who likes Liam for who he is, not because he's in the most famous boyband in the world."

Liam once explained to US Glamour how difficult it is to see a girlfriend experience the Twitter abuse that comes with dating a member of the band.

He said: "Yeah, that's something that is quite hard - people being a bit rude to [Danielle] on the Internet.

"And it's a challenge having a relationship on the road. Credit to anyone who does it, really."

© Getty
One Direction