Every couple gets asked at some point in their relationship: "So how did you two meet?" Maybe it was a blind date, maybe you went to school together or maybe your ex boyfriend's new girlfriend used to date him. Well, if you are Nikki Reed and Ian Somerhalder, then your answer would be option C. Can a relationship based on complicated love triangles and revenge blossom into something beautiful? According to Nikki and Ian and this handy timeline we created, it looks like it can.
2011-2013 Ian Somerhalder dates Nina Dobrev
Vampire Diaries fans heads almost exploded when the vampire duo officially became a couple and made Elena Gilbert and Damon Salvatore a thing in real life. They were on and off for three years until officially calling it quits at the end of 2013, breaking the hearts of vampires, werewolves and hybrids everywhere.
2013 Derek Hough briefly dates Nina Dobrev
Introduced by her BFF Julianne Hough, Nina Dobrev briefly rebounded from her breakup with Ian by hooking up with Derek Hough. Although the fling only lasted six weeks, it was enough to allegedly drive a wedge between Nina and Julianne after Nina decided to give Derek the boot. It's gotta be hard to go from sexy vampire to a guy who can shake his backside better than you can.
2014 Derek Hough dates Nikki Reed
In walks another vampire into our web of love, Nikki Reed was also BFFs with Julianne Hough (these people need to find some new friends) and started dating Derek Hough in 2014. Although they kept it mostly under the radar, it was reported that Nikki couldn't let things go after Derek got too busy for relationship with his appearing in America's answer to Strictly Come Dancing, Dancing with the Stars. Poor lil Nikki was reportedly heartbroken.
2014 Nina Dobrev hooks up with Derek Hough
So this is when things start to get a little complicated. Some rumors state that Nina Dobrev hooked up with Derek Hough again after his breakup with Nikki Reed, and fueled with jealousy, Nikki Reed allegedly went after Ian Somerhalder. Oh. Snap.
2014 Nikki Reed starts dating Ian Somerhalder
Nikki and Ian were friends before they started dating, but Ian's hookup with Nikki was said to devastate Nina, and she reportedly almost quit the Vampire Diaries because she couldn't see Nikki coming by on set. Our heart breaks for Nina/Elena/Katherine! We give Nikki points for her sheer confidence, it can't be easy to follow up Nina Dobrev, but these four hotties' dating history reminds us a little too much of the incestuous Saved by the Bell cast. Is there really nobody else in the teen vampire universe for them to date? Nobody wants to take a run at Edward Cullen?
I mean, do you see any similarities?
After only six months of dating, Nikki and Ian got engaged, and just three months after their engagement, they tied the knot this past weekend. Given that Nina and Ian were dating three years, we can see how a wedding after only nine months might be just a little bit heartbreaking. If that was my ex who I still had to work with every day, I would be in a wine-induced coma right now.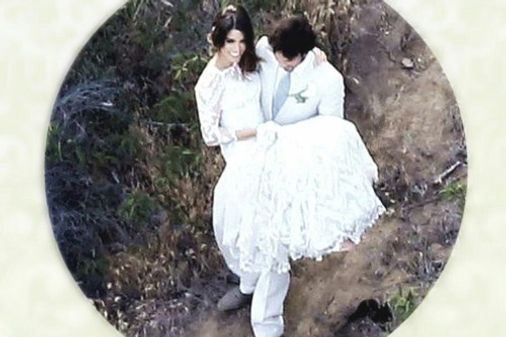 © We Heart It
So this begs the question, given this foursome's vengeful and tangled past, is revenge dating something that could actually lead to a successful relationship? Here's why we think it could end up working:
You already have plenty in common
One of the biggest reasons couples end up splitting up is because they don't have enough in common to make their relationship work. However, when you have mutual friends, exes and plenty of shared experiences in common, it can make your relationship even stronger. Besides having the same social circle and sexual partners in common, Ian Somerhalder, Nikki Reed and Nina Dobrev have all been heavily involved in raising awareness for animal rights. Ian and Nina adopted a cat together, and Ian and Nikki have already adopted two horses, two cats and a dog together. Which basically makes them the Brad and Angelina Jolie-Pitt of animal adoption. Given how intertwined their lives are, it makes sense that Ian and Nikki are working out so well.
All the skeletons are already out of the closet
You know when you're nine months into dating somebody and you're at a friend's party and all of a sudden you meet this mystery hottie your boyfriend dated back in the day and totally forgot to mention? Well, when you go after your ex's girlfriend's ex, you already know everything there is to know about their relationship and why it didn't work out. There's a lot to be said about full transparency in a relationship, and you can't be surprised by your past if it's what brought you together.
The only thing better than makeup sex? Revenge sex.
Rumour has it there is nothing better than revenge sex. Knowing that you are competing with somebody who helped break your heart is a great motivator to put your best moves on your new man. Revenge chemistry is so hot it's very likely it will turn into true passion.
Just be warned, when things get real, put revenge in the past.
I'm sure it can be cathartic to hook up with somebody who can help you get over your ex, but if it turns out you guys have more in common than your hatred for your ex, then put the revenge behind you. No more obsessing about your ex or spending negative energy trying to punish them by making them jealous. Something petty and a tad bit vindictive might have brought you and your new man together, but if it works, then start focusing on the future instead of lamenting the past. Weirder things have brought couples together, so if it makes you happy, it doesn't really matter why. So with that, we say congrats to the new Somerhalder clan!
Do you think revenge hookups can work? Tweet at us! @sofeminineUK
This article was written by Dagney Pruner. Follow her on Twitter @dagneyp
You might also like:

20 Things American Men Said About Kate Middleton's Hotness

10 Thoughts Everybody Has Watching 'Full House'

20 Reasons Emma Watson Is Our Spirit Animal