Rihanna took the opportunity of touring in New Zealand to visit a tattoo parlour in West Auckland that specialises in authentic Maori tribal tattoos.

The Diamonds singer opted to have an elaborate design inked onto the back of her hand by tattooist Inia Taylor, which was done the traditional way using a chisel, ink pigment and a mallet to inscribe a Maori pattern.

In a two-minute video uploaded by Tiki Taane at Moko Ink, Rihanna is seen struggling to control herself as the intricate lines are painfully etched into her skin.

The design runs from the top of the 25-year-old's fingers down to the middle of her forearm, but by far the most painful-looking area is the singer's swollen and weeping knuckles.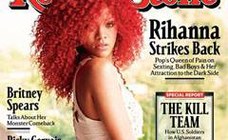 Rihanna does her best to remain composed as the tattooist uses a paper towel to wipe off the blood from her hand, but even she can't help herself from pulling a few faces.

Luckily Rihanna has already completed the New Zealand leg of her world tour, as it's pretty clear that her hand will take some time to heal.

On the whole fans have had a positive reaction to Rihanna's new ink, with one local Auckland girl commenting on the video: "I think it's nice that someone from the outside is taking an interest in our culture and ways."

Another commented: "Good on you RiRi! She is one bad a**! NZ proud


"

While Rihanna had a wonderful time on the latest leg of her Diamonds tour, she's already off again, tweeting earlier today: "Bye bye New Zealand!! I love you!!! Hate to leave….soon."
What do you think of Rihanna's new traditional Maori ink? Love it or loathe it? Tweet us @SofeminineUK!

© Getty
Rihanna