Beyonce has been sharing snaps of her family again, and the three of them are so cute we can't even take it!

The singer has began to flood her Tumblr account with intimate snapshots of her family and we are definitely not complaining!

This time the Love On Top singer was backstage for one of her sold out dates for The Mrs Carter World Tour and looked ready to get into costume with full hair and make up all finished, but clearly wanted to spend some time with her daughter first and was all smiles as Blue Ivy cheerfully used an iPhone as a toy.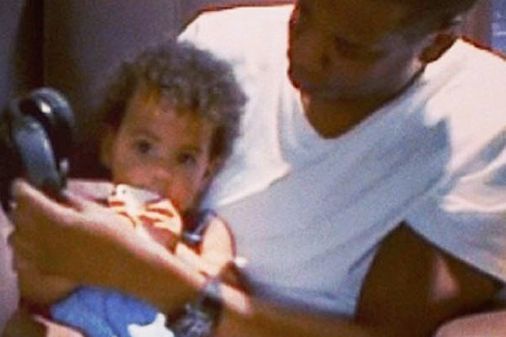 © Instagram
Jay Z and Blue Ivy
Beyonce was looking smoking and couldn't help but pose a little as she tossed her blonde locks about, but it looks like she managed to get a candid shot of her hubby Jay Z as he sat with Blue on his lap whilst holding some headphones. Did he want to make his daughter his biggest fan? Or was he trying to play her the lullaby that Kanye West apparently recorded for her birthday? Either way, it didn't look like she was much interested!

The snaps also showed how much weight Beyonce has lost recently. The yummy mummy revealed that she wanted to be seen as fun and sexy in her new music videos, and so slimmed down to an incredible 130lbs.

She said: "Just because you become a mother it doesn't mean you lose who you are. I was very aware of the fact I was showing my body. I was 195 pounds when I gave birth…I worked crazily to get my body back. I wanted to show my body. I wanted to show that you can have a child and you can work hard and you can get your body back."

You have to love her, don't you?! Tweet us @sofeminineUK