The world is in mourning today after singer-songwriter Prince died at Paisley Park on his Minnesota estate yesterday. Prince was a revolutionary who created music that transcended the limits of R&B, rock, funk and pop. His greatest hits include When Doves Cry, Kiss, Raspberry Beret and Purple Rain.
It is thought the singer collapsed in a lift on the estate which held his recording studio, Paisley Park. Just last week, Prince's private jet made an emergency landing in Illinois after he reportedly fell ill from a bout of flu. Five days ago, after recovering, he held a party where he told fans: "Just wait a few days before saying your prayers."
Prince's talent was immeasurable and his musical skills unparalleled. Much like David Bowie, Prince redefined convention: whether he was wearing heels, head-to-toe sequins or the colour purple - a penchant which led to him being dubbed 'The Purple One' - he unabashedly played with gender and sexuality with such confidence that often led to him being hailed one of the sexiest men alive. His image was as much part of the creative process as the music was.
Tales of diva behaviour swirled like stage smoke around Prince, but often it worked to the benefit of the fans. In 2011 Prince headlined Hop Farm Festival in Kent, where he insisted on being the only act to play across the festival, shutting all other stages and acts down, and playing way beyond the curfew that the festival allowed. In just March of this year on his Piano and Microphone tour, he played 57 songs, five encores, and a cover of David Bowie's 'Heroes'.
Prince was an icon. His passion for music could not be questioned, and the wealth of music he leaves behind will continue to serve as his legacy. RIP Prince. Purple Reign forever.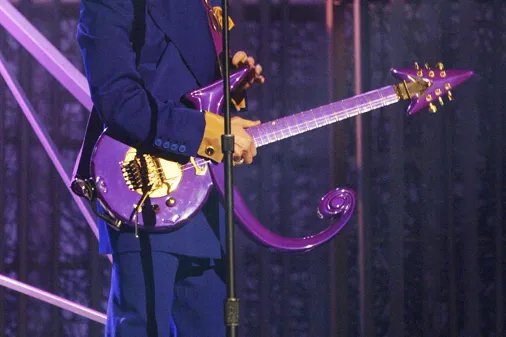 © Getty Images
What's your favourite Prince song? Let us know: @sofeminineUK