Happy birthday to Rihanna! The singer turns 26 today, and from the looks of her Instagram photos, she's having the time of her life celebrating. Bad Gal RiRi took to Aspen to mark the milestone on snowy slopes and party in a lush cabin with her nearest and dearest. Here are just a few of our favorite photos she's shared from the week-long birthday bash.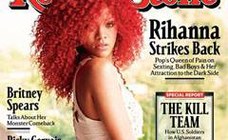 Rihanna shared this super sexy-yet-subtle pic of her backside. That gal loves a good belfie (butt selfie). She tagged the photo with the caption "#cabinlife". Cabin life looks like might fine living, if we may say so!
Seriously, could this Aspen pad be any more gorgeous? Rihanna wrote, "Touchdown! 26 you better bring it bitch!!!! 48 hrs left on my quarter century! Here's to not remembering any of them!" Cabin cocktails, coming right up.
Rihanna captioned this delicacy with, "I love my team! #BirthdayIsms". OMG, how delish does that cake look? That thick, swirly chocolate frosting, the colored dot sprinkles, and of course, chic letter candles. Yum!
A snowball fight with Rihanna? We'd be delighted. One thing's for sure - we've never seen anyone look this gorgeous in a snowsuit. Not an easy ensemble to pull off fashionably, but of course she makes it look completely effortless.
Rihanna captioned this artsy snap with "#Feb20". Please not that her nails match her balloon - not that we'd expect anything less from the designer and style icon.
Happy Birthday, RiRi! Wishing you the best year yet.
What's your favorite Rihannagram? Tweet us @sofeminineUK!