Simon Cowell was supposed to be making a comeback for the tenth series of UK X Factor - but now it seems he's changed his mind.

The show boss had planned a new section of the show that would see the four judges visit him on his £45m yacht in the South Of France.

But after news broke last week that he is to become a dad, he's reportedly decided to ditch the segment - and has in turn angered ITV bosses.

Just days before the baby scandal, it was announced Simon would be returning for an appearance on The X Factor.

In what was no doubt an effort to boost dwindling ratings, the music mogul was to make a comeback after leaving the show in 2011.

But now Simon is keen to keep a low profile, fully aware that all eyes are on him and his pregnant former lover Lauren Silverman.
So he will instead deliver the news of which categories each judge has been given over the phone - as he has done in previous series.​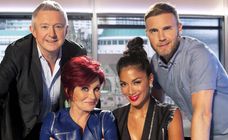 No doubt judges Gary Barlow, Sharon Osbourne, Louis Walsh and Nicole Scherzinger will be peeved to hear the news, as they were due to fly out to St. Tropez by private jet on Thursday.

They are said to have found out via the man himself just yesterday,

A show source told The Mirror: "His problems and drama off screen are now starting to impact on his TV shows. He even called the UK judges personally to apologise for messing them around.

"ITV bosses are furious at the last-minute change. Simon's return was going to be a big coup for them, but now that he's just doing exactly the same as he did last year, it's no big draw for the viewers. It's really disappointing."

It's no surprise Simon, 53, wants to keep his head down, as pregnant Lauren, 36, is the estranged wife of his friend Andrew Silverman.

Andrew has filed divorce papers that cite infidelity and he allegedly names Simon, which means the TV boss could be forced to give evidence.

Though many are labelling socialite Lauren a "gold-digger", US reports have claimed she was just as shocked as Simon when she fell pregnant as she was unsure whether she could conceive.

© Getty
Simon Cowell, Louis Walsh, Sharon Osbourne and Sinitta