Taylor Swift is reportedly planning a song slamming Justin Bieber after it appears that the Canadian superstar dissed her in his new single All Bad.

The lyrics of the Biebmeister General's songs are as deep and insightful as always (joke) as he talks about somebody who "ran their mouth" about his relationship. And who is this supposed gossiping shrew?

Well, Taylor Swift is best friends with Selena Gomez, and was reportedly very annoyed by the way Justin would treat her when they were dating.

There was even an amazing moment at the Billboard Music Awards this year when Taylor stuck her tongue out in disgust when she saw them kissing. Hilarious!

But what makes it more obvious, though, is that Justin retweeted a fan who wrote: "I think Justin is shading Taylor in 'All Bad.'"


Film actress, Songwriter, Singer, Musician
born 13/12/1989
The lyrics do seem like they could relate to anyone, with no clues that he is singing specifically about Taylor (for example, there's no mention of high waisted shorts or red lipstick).
But they ​include the cryptic lines: "They try to get at me behind your back. Tryin' to tell me I'm just like the other but I ain't all bad. Wanna be, wanna be everything I ought to be to you. Envy, envy, same thing as jealousy, jealous of you. That's what they do."

Taylor seems to think Justin is singing about her and she is reportedly planning to hit back with a song of her own.

​As her new album Red has been extremely well received, with hits including 22, I Knew You Were Trouble and We Are Never Ever Getting Back Together, Bieber better be careful!
An insider told HollywoodLife: "She has heard the song, and she is definitely going to respond at some point.

"She has the mentality now that payback is a bitch. A song about him has no timetable but it's inevitable."

Taylor knows from previous experience dissing her ex-boyfriends Jake Gyllenhaal, John Mayer and Joe Jonas that revenge is a dish best served cold. Be afraid Biebs. Be very afraid.

Are you a fan of Taylor Swift? Tweet us @Sofeminineuk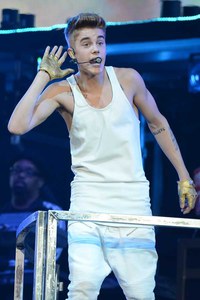 © Getty