I often brag that I have a personal connection to popular TV show The Biggest Loser. No, I wasn't on the show, and I'm not related to anyone who was, either. My indoor cycling instructor, Olivia Ward, was crowned winner of Season 11 back in 2011. I see Olivia probably once or twice a week - except of course when she's traveling for fabulous events like The Biggest Loser finale. ​We've become friendly and always chit-chat a bit before or after class. She is a strong, beautiful woman who never ceases to amaze me, inspire me, and push me.
​To me, she is the epitome of what I always thought The Biggest Loser represented: dedication and transformation, with an emphasis on healthy living.
Last night I watched in awe as contestant after contestant made their "new and improved" debut, each looking more fit and fabulous than the one before.​
But NBC saved the biggest surprise for last, when a now-105 pound Rachel Frederickson made her way on​to the stage, Cameras panned to show Jillian Michaels' and Bob Harper's reaction, which many are saying looked like a mix of shock and horror.
​After the last three weigh-ins, Rachel was crowned the season winner, having shed 155 pounds from her former 260 pound frame.
Cameras panned to show Jillian Michaels' and Bob Harper's reaction to Rachel's new figure. The trainers were clearly stunned.
"I was shocked," Rachel told PEOPLE of the win. "I came here to gain back my life, and I did exactly that. I've found that proud, confident girl that has so much respect for herself."
There has been a mixed reaction to her victory. Some have praised her f​or the weight loss, while others feel she went to extremes to win the $250,000 prize. According to standard BMI calculations, Rachel is now considered underweight for her height. Fans of the show took to Twitter to express the controversy, saying things like, "This is the first time I've seen a contestant take it too far. Genuinely upset about this one."
I was personally surprised to see how thin Rachel looks today. When I think of female contestants on The Biggest Loser, one word comes to mind: "strong". And I just don't think that's the word to describe how Rachel Frederickson physically looked last night.
One thing's for sure: next time I see Olivia, I've got a big hug with her name on it. She's living proof that you don't have to be stick thin to win. She serves as a constant reminder to me that it's not about the destination; it's all about the journey. And, most of all, strong is SEXY!
What do you ​think of Rachel Frederickson's new look? Tweet us @sofeminineUK!
Check out these other Biggest Loser drastic transformations!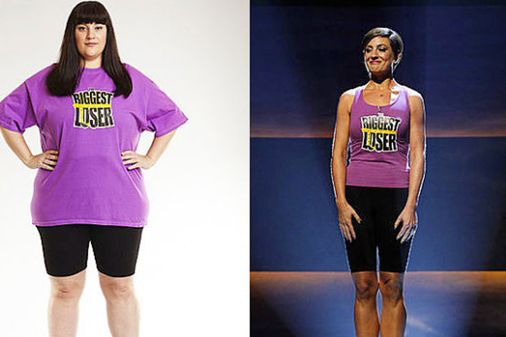 © NBC
The Biggest Loser - Olivia Ward