Tomorrow isn't promised for the young girl, but one thing that was promised to Taylon Davis, a shining beacon of strength, was her dying wish becoming a reality. And that's exactly what Beyoncé did.
As if Beyoncé's internet-breaking release of her fifth album wasn't enough to start her holidays off with a bang, the singing sensation exceeded her list of good deeds this festive season when she created this unforgettable moment for the young girl.
Taylon has an inoperable brain tumor and her time left is unclear.
When B traveled worldwide for her Mrs. Carter Tour, there was one particular show in Las Vegas earlier this month that really made an impact.
The deed was coordinated by the Make-a-Wish Foundation and Philanthropy Program Partnerships where the songstress granted Taylon's wish to sing and dance with the superstar. In an overwhelming evening for the young fan, she was often seen bursting into tears throughout the concert.
Before the show began Taylon said: "I am having so much fun. I can't wait to see Beyoncé."
Beyoncé can be seen descending onto the stage from a wire where she meets the young dying fan for the first time. The pair hug each other as Beyoncé sings and dances with with her.
Watch this heart-wrenching video of the duo...
"They found an inoperable tumor on her brain, and her dying wish was to dance with Beyoncé," Ivy McGregor of Philanthropy Program Partnerships explains.
The pair sang Destiny's Child's "Survivor" together as well as "Love on Top."
"Here's a little girl literally fighting for her life," Ivy explains.
"'Tomorrow's not promised, next week's not promised, but right now I'm here,' and her thought that will forever stay with me is, 'Since I'm here, I might as well live.'"
You can't help, but love this woman. With this, and her recent surprise to fans last week (when she gave Walmart shoppers a $50 gift card for Xmas) we wonder what other good Beyoncé can possibly do?
Truly heart-breaking to watch, but clearly a special moment for both, Taylon and Beyoncé. Props to you B.
What do you think of the emotional footage? Did you cry your eyes out too? Tweet us @sofeminineUK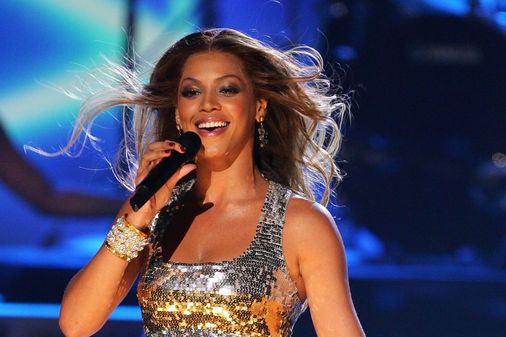 © Getty Images
Beyonce