Dame Helen Mirren is known for her superior acting chops, elegant disposition, and classic beauty. One thing not listed on her comprehensive resume? Twerker.
But she did just that for a cheering crowd at Harvard's Hasty Pudding Award Ceremony this week while accepting the theater troop's top honor. Check it out!
When it came to twerking, the 68-year old actress admitted she had "tried in my bedroom. It was absolutely humiliating." We've gotta say though, that Dame can shake it!
Other than the request to twerk, Helen answered a series of questions at the forum, including who was the hottest actor she'd ever worked with (Harrison Ford) and who would win in a fight between herself and Meryl Streep.
"Meryl would win, definitely. She's bigger, stronger and mentally stronger than I am."
She also gushed about her love of Beyonce, calling her "quite extraordinary and spectacular" and had a piece of advice for all of the single ladies out there: stay single as long as possible!
"...a relationship is a wonderful thing," Helen said, "but it's not necessary to be happy and successful in life."
A bystander descriped Helen as looking "gorgeous but casual". We wouldn't expect anything else?
Who's your preferred twerker: Miley or Helen? Tweet us @sofeminineUK!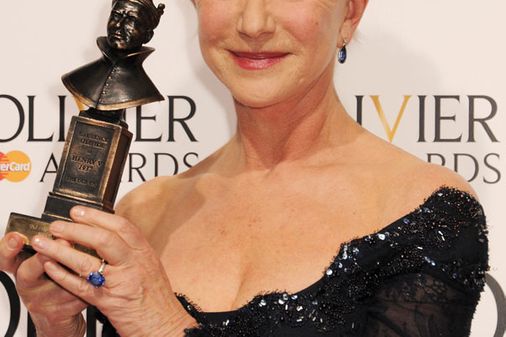 © Getty
Helen Mirren