BBC has released a new trailer for the Doctor Who 50th Anniversary, as well as a short clip.

The eagerly anticipated episode for the much-loved sci fi drama shows current Doctor Matt Smith teaming up with his predecessor David Tennant, a move that has made fans everywhere implode with geekish delight.

The longer trailer features moments of the two Doctors enjoying each other's tawdry quirks (fez, anyone?) as well as sizing each other up in a highly suggestive game of 'my sonic screwdriver is bigger than your sonic screwdriver'.

We cannot wait to watch them together in action!
The show has also brought back much loved companion Rose Tyler (Billie Piper). In the new trailer her eyes seem to flash eerily as she speaks to a version of the Doctor, so we're making a well-placed guess that the words Bad Wolf are going to come up at some point in the episode, a meme from Rose's storyline. Argh!

The final episode of season seven introduced John Hurt as The Doctor as a set up for him to play what is thought to be the main antagonist of the episode. It is assumed he is a previous version of the Doctor, yet we hardly know anything about him…yet.

However the new trailer seems to indicate that we will be seeing the much mentioned Time War that saw the end of the Time Lord race as the Doctor killed them all, something that has since haunted his conscience. Could John Hurt be the version of the Doctor that presses the big red button? That's our theory!
The episode will also feature Clara (Jenna Coleman), the Doctor's new companion from last series after Amy and Rory's departure (sob), as well as Joanna Page as Queen Elizabeth I. They're certainly not short of fabulous independent women!

Clara is the main part of the short clip that has been released, as she and the Doctor look at an Elizabethan portrait that seems to depict the Doctor's home world of Gallifrey. We can't wait for all the pieces to be put together!

Are you looking forward to the episode? Tweet us @Sofeminineuk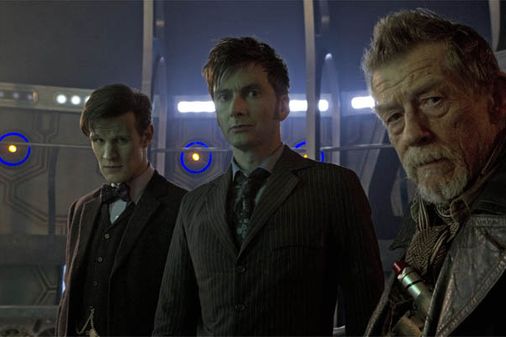 © BBC Pictures
The Doctors