The One Direction boys have collaborated with funny man James Corden to produce (probably) their best video ever.

The six minute long clip to accompany their new track Best Song Ever stars the boys both as themselves and some interesting alter egos.

Niall Horan and Louis Tomlinson both piled on the pounds to appear as movie executives, gushing over the lads and offering some typical Hollywood advice for their upcoming film, This Is Us.

Zayn Malik had the biggest transformation, entering the flash office as the bosses' female secretary.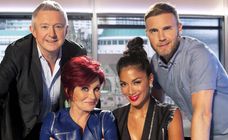 Harry Styles showed us how well he can pull off geek chic as marketing man Marcel.

While Liam Payne busted his best moves as the team choreographer...also turns out he's the only one who can't manage an American accent!

The video sees the boys refusing to go along with the suggestions of co-ordinated outfits and dancing, which is "so hot right now!"

We weren't sure the song was that amazing when we first heard those teaser clips, but now we've seen the vid we just can't stop singing it.
The lads show us just why they've been steering clear of the dance moves for all these years with a choreographed routine before with a shot of themselves and the line: "This Is Us".

These guys know how to get people excited - the film is out in August and we cannot wait.

1D have been on tour for a long time now and have been recording along the way.

They've even borrowed the voice of a hotel maid for the sex noises in the background of one of their new album tracks.
Harry, 19, told The Sun: "We needed a, you know, a groan on one of the songs. So I asked a lady at the hotel to record the 'Urgghhhhh!'

"She was nervous at first but soon got into the swing of it."

Louis, 21, explained that they've taken to recording in their hotel room: "We had to do it that way or there'd be no time."

Liam, 19, added: "We had a lot of fun doing it like that - just speakers, a mic."
Louis chipped in: "We stuck the mattresses against the walls for the acoustics."

And Zayn, 20, added: "It was actually quite chilled but we rinsed the room service."

Sadly the unconventional recording space did invite a few interruptions.

Harry said: "We'd be recording the best vocal ever - you're thinking, 'I'm really smashing this!' - then there'd be a huge knock on the door and you'd get, 'Room service!' or 'Housekeeping!' We'd be, like, 'Nooooo!' and have to start again."

© One Direction
One Direction