The new One Direction music video for their single Story of My Life is here and it's just adorable.

The video shows the gang - Zayn Mailk, Harry Styles, Liam Payne, Niall Horan and Louis Tomlinson - developing photographs from their childhood.

They then appear in the photographs as their adult selves, cueing guest appearances from a whole host of their 1D family members in order to recreate moments of their history. It's genuinely the sweetest thing ever.

Zayn is in his bedroom with his sister, which starts as a photograph from when they are both little and it then changes to the present.

Harry is sat on the sofa with his mum eating what appears to be a bowl of sausages (oh Hazza), whilst Niall recreates a photograph of him playing the violin with his brother.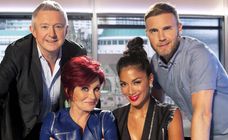 For Liam it is a family affair as he poses with his family for a formal event. Things take a sad turn for Louis though, as his story starts out as an old snap of him with his grandparents and great grandparents, then as he changes to an adult his great grandparents fade away. We were tearing up!

However Louis obviously loved that his grandparents got into the video though, tweeting: "Screen debut for the grandparents haha! Love it!!"
The Story Of My Life video, which was accidentally released 48 hours before hastily being taken down again, has already reached 9 million views since it premiered officially 18 hours ago.

The record for most viewed in 24 hours currently belongs to everyone's favourite twerker Miley Cyrus, whose Wrecking Ball video reached 12.3 million. You have six hours left boys, you can do it boys!

Upping the rivalry between them and the former Disney star, Harry Styles dressed up as Miley during her controversial VMAs appearance. He even donned the nude pants and giant foam finger.

​We think he makes an awesome twerking Miley for Halloween!

Do you like their new video? Tweet us @SofeminineUK

© Instagram
Harry Styles dressed as Miley Cyrus