Being vegetarian doesn't mean you have to deal with boring dishes. Anyone else had enough of the Goats Cheese Tart already?? To help you liven up your plates, we've put together a list of the best vegetarian cookbooks.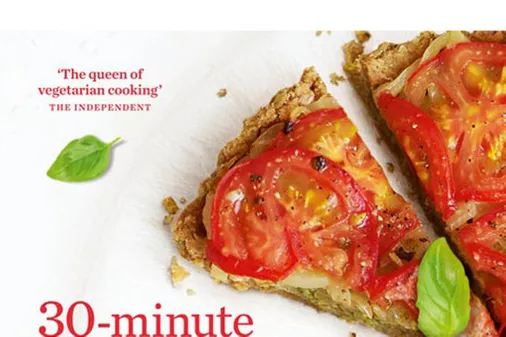 10 Of The Best Vegetarian Cookbooks
30 Minute Vegetarian by Rose Elliot
Veggie meals we can make in 30 minutes? We're all ears. Rose Elliot's 30-Minute Vegetarian will help you make a delicious and quick vegetarian dinner, any night of the week.

From comforting classics to fresh ideas the book has it all.

Available from Wordery
Feast by Sarah Copeland
With images that make you want to nibble on the page, this book is full of inspirational recipes that are sure to be a hit with all vegetarians.

Available from Chronicle Books
Leon: Fast Vegetarian by Jane Baxter and Henry Dimbleby
Full of simple, tasty dishes, all presented in Leon's standard stylised, accessible manner. Leon have created another great cookbook. This one might be our favourite of theirs.

Available from Amazon​
How to Cook Everything Vegetarian: Simple Meatless Recipes for Great Food by Mark Bittman
The mother of all vegetarian cookbooks, 'How To Cook Everything Vegetarian' is known for simple recipes, great, tasting food, and straight, shooting advice. This is one for all kitchens.

Available from Amazon
The Meat Free Monday Cookbook by Paul, Stella and Mary McCartney
With recipes such as Spiced Pumpkin Pancakes, Basil and Mushroom Tart, Pilau Rice with Cashews and Watermelon Granita, this book could make a meat lover reconsider.

Available from Amazon
The Modern Vegetarian: Food Adventures for the Contemporary Palate by Maria Elia
Meat... schmeat. With imaginative vegetarian dishes that taste fantastic, this book is a winner with us.

Available from Amazon
New Complete Vegetarian by Rose Elliot
Offers over 1000 simple, delicious beautifully illustrated, easy to follow recipes that you can make at home.

Available from Amazon
Plenty by Ottolenghi, Yotam
All the recipes are true to the Ottolenghi form, vibrant, daring and highly original. The book is sure to bring out the sophisticated cook in you.

Available from Ottolenghi
River Cottage Veg Every Day by Hugh Fearnley-Whittingstall
Simple, unfussy recipes, you really can make delicious vegetarian recipes, everyday.

Available from Amazon
Veggiestan: A Vegetable Lover's Tour of the Middle East by Sally Butcher
Beautifully flavoured, hearty nutritious dishes from across the Middle East. The Afghan Yogurt with aubergine might be the best thing we have ever tasted.

Available from Amazon
Any of these books take your fancy? Tweet us @sofeminineUK
This article was written by Tolani Shoneye. Tweet her @tolly_t
You might also like...
16 Clean & Delicious Healthy Detox Recipes For 2015

10 Healthy Snack Foods That Aren't All That Healthy

Vegetarian recipes for easy meat-free dining
​
​