Here's a very modern relationship drama for you - Chris Brown has unfollowed Rihanna on Twitter and started following his ex-girlfriend Karrueche Tran.

Chris' online dig has come after RiRi was spotted in a club kissing a mystery man over the weekend.

Not only that, she also started to follow Chris's ex-pal Drake on Instagram.

The kissing pics were strictly cheek pecks but you can see why her on-off boyfriend Chris may not have been too impressed.
The Diamonds singer choosing to follow Drake on Instagram is a pretty big deal, as there is some serious beef between the two rappers.

The boys most memorably got involved in a bar brawl over Rihanna, after Drake allegedly baited Chris by sending over a bottle of champagne with an offensive note.

The Yeah 3x singer has recently tweeted some fairly depressed comments, potentially referring to his tricky romance with Rihanna.
Clinton Brown - Chris' father - has spoken out about the destructive couple's relationship.

He's said he doesn't think the pair should have given their relationship another go after Chris beat Rihanna black and blue in 2009.
By the sounds of this childish behaviour he may be on to something.

Clinton told the Daily News: "I personally really didn't want him and Rihanna back together. You have to have a balance in a relationship.

"You have to have someone who is spontaneous and whimsical but you also have to have someone who is grounded and logical."

The couple's on-off relationship definitely doesn't seem that balanced!

Chris and Rihanna have both seemed to be trying to make each another jealous for weeks now.

Guess we'll have to watch this space but let's hope Chris Brown's Twitter activities don't get as out of hand as last time!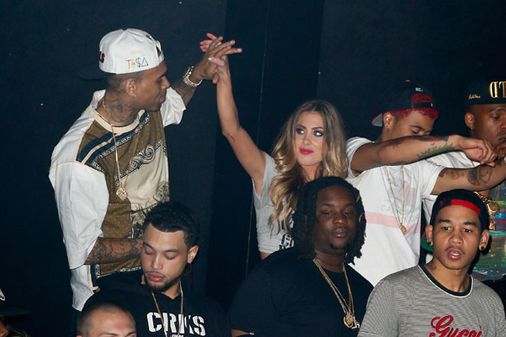 © Getty
Chris Brown with a waitress a few weeks ago