Demi Lovato's dad Patrick has passed away.

The Disney star turned pop princess was absent from her US X Factor duties on Saturday after receiving the sad news.

It's not yet known how Patrick Lovato died, but Radar Online reports he was battling cancer in the past two years.

Demi tweeted yesterday: "I feel so humbled to have had so much support from my fans, friends, family and complete strangers.. God bless you all, thank you so much ❤."

The 20-year-old decided against attending a weekend photo shoot with her fellow X Factor judges Simon Cowell, Kelly Rowland and Paulina Rubio.

Host Mario Lopez tweeted a photo of the remaining three panellists with the caption: "With my @TheXFactorUSA team! Missing @ddlovato today...


."
Meanwhile, show boss Simon posted online: "My thoughts are with you Demi.X."

Patrick was estranged from Demi and her sisters Dallas and Madison after he left the family when the singer was a child.

In her track For The Love Of A Daughter, Demi referred to her troubled relationship with Patrick with the lyrics: "How could you push me out of your world, lie to your flesh and your blood."

In 2009, Patrick claimed he was back in touch with Demi, but she insisted they were still estranged.

She told the New York Daily News: "The last time I talked to him was two years ago.

"You try to have faith in somebody, even when you're the last person that believes in him.

"But when somebody lets you down after you've been the only one there for them, and so many times, you don't know what else to do. I had to cut off all connection. It was hurting me too much."
The following year, Patrick claimed he'd received a phone call from his daughter while she was in rehab, where she was admitted for physical and emotional issues.

He told RadarOnline at the time: "She told me she loved me, she really loves her daddy. She told me she's getting better."

And in 2011, Patrick revealed to the press that his health was deteriorating and asked Demi to get in touch with him.

The young US star - who proved hugely popular in her first stint as a US X Factor judge last year - was brought up by her step-father after her parents' divorce.

Demi's mum, Dianna De La Garza, tweeted on Saturday : "Thank you for the outpouring of love and prayers. Ya'll are amazing!"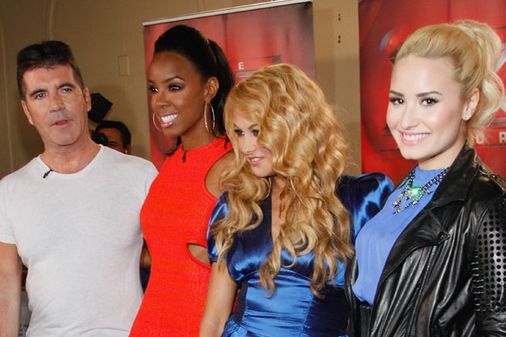 © Getty
US X Factor judges