It's been the top story across the country since Baroness Margaret Thatcher died from a stroke yesterday and, just as she did during her life, she's been dividing opinions after her death.

One unexpected star who's hit the headlines in news surrounding the former Prime Minister's death is Geri Halliwell.

The Spice Girl originally - and rather controversially - posted a tweet praising the work of Maggie.
​She wrote: "Thinking of our 1st Lady of girl power, Margaret Thatcher, a grocer's daughter who taught me anything is possible…x."

But Geri faced a backlash for her message of praise, as huge numbers of the British public were opposed to ​Maggie's strong views during her time as PM from 1979 to 1990.

As a result, 40, Geri deleted the tweet and simply wrote: "I'm sorry if I offended you."

But it seemed she could do no right as Geri, who's previously described Margaret as "the original Spice Girl", disappointed fans by going back on herself.

One wrote: "So Geri Halliwell tweeted about the 'first Lady of girl power' and then deleted it after getting some stick? Girl power indeed. #thatcher."

Glamour model Imogen Thomas, 30, had a similar experience to Geri when she posted: "RIP Margaret Thatcher x."

The new mum later wrote: ​"Too much backlash for a Monday! This tired head can't deal with it today...."

But a number of other celebs got in on the action and stuck by their posts.

Singer Katherine Jenkins let us all know that she had a personal relationship with the Baroness when she wrote: "RIP Baroness Thatcher. I will always fondly remember the afternoon tea & chat at your home #GirlPower."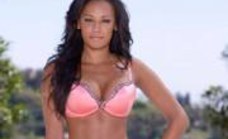 While Emma Watson simply posted: "RIP Margaret Thatcher."

And it wasn't just the girls paying their condolences to Maggie, as Made In Chelsea villain Spencer Matthews also tweeted his sympathy.
He wrote​: "RIP The Iron Lady... An example to us all..."
While some of the stars were afraid of backlash from followers, one who clearly had nothing to worry about was 1D singer Harry Styles.

The 19-year-old echoed the thoughts of his fellow celebs when he wrote on his Twitter: "RIP Baroness Thatcher x."

But his legions of fans quickly showed their age by responding with some brilliant quotes.

One said: "Is he your friend?"

While another commented: "Is Market Thatcher something to do with our queen?"
Many stars weren't afraid to say what they really thought of the Iron Lady, who earned her nickname because of her steely determination in the face of criticism.​
​
Singer Morrissey was typically outspoken, describing Thatcher as "a terror without an atom of humanity" before posting an essay to the Daily Beast outlining all of his opinions.

Actor Jamie Bell also shared his appreciation for her passing by posting: "Ding Dong", followed by: "It's ironic really. I had 'Cruella De Vil' as my alarm this morning."

Jamie, 27, is best known for his role as Billy Elliot in the film of the same name, which follows a northern family living through mining strikes.

Margaret Thatcher is due to have a ceremonial funeral similar to that of Princess Diana and the Queen mother.

© WENN
Geri Halliwell