Gwyneth Paltrow has admitted to a huge grooming "disaster" before she stepped on the red carpet at the Iron Man 3 premiere.

The 40-year-old wore a revealing dress with mesh panels down both sides - a gown that left no option but to go kicker-free.

The blonde star told Ellen DeGeneres that she hadn't realised her dress would leave her with "her ass hanging out" and wasn't quite prepared in terms of her bikini line.

She was named The World's Most Beautiful Woman by People magazine but told show host Ellen that her experience of getting dressed for the premiere had her transform "from being the most beautiful to the most humiliated, in one day."

She said: "I kind of had a disaster. I was doing a show and I changed there and I went I couldn't wear underwear. I don't think I can tell this story on TV."
Initially shy, Gwyneth went on to say: "Well, let's just say everyone went scrambling for a razor.

"I work a '70s vibe. You know what I mean?"

Asked about her new title as the most beautiful woman in the world, she told Ellen that when her publicist emailed her the news she thought the whole thing was some sort of prank.

She said: "I was flabbergasted. My publicist of like 22 years, Stephen Huvane, sent me an email. And honestly I was like this is a joke. I re-read it three times.

"I was like oh, he sent this to the wrong client. Like there's no way.

"My name wasn't on [the email]. I was like oh this is not for me and it was actually psychologically interesting because for a minute I really thought that someone was playing a joke on me.

"I talked about it with my shrink."

Overall though she took the compliment and admitted: "I'm 40 and I have two kids - and that's kind of rad."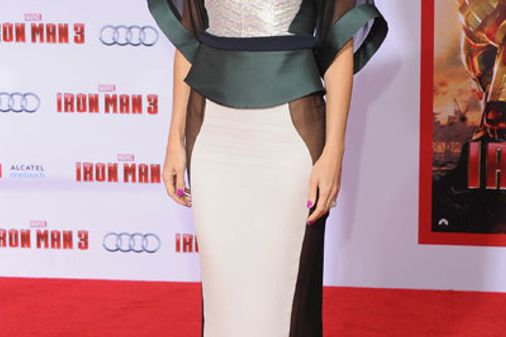 © Getty
Gwyneth Paltrow at the Iron Man 3 premiere