Gwyneth Paltrow appeared at the LA premiere of Iron Man 3 wearing a very revealing dress with a noticeable lack of underwear last night.

The 40-year-old arrived on to the red carpet at the El Capitan Theatre in LA in a floor-length panelled gown.

The dress appeared demure as she faced cameras head on, but as the blonde actress turned her body, she exposed a lot more than expected.

The silhouette-enhancing outfit had wide black mesh panelling down each side, which left little to the imagination as Gwynnie had clearly decided to go commando!
The mother of two is famous for her strict macrobiotic diets and more recently her healthy, vegetarian cookbook - whatever she's doing is certainly keeping off the pounds!

The Hollywood A-Lister showed no sign of embarrassment at being so on show, even if it was for the premiere of a Disney production.

She glowed with minimal make-up and her signature sun-kissed skin.

The outfit was quite the change from the Iron Man suit, which her character Pepper gets to wear in the new flick.

She spoke to Empire magazine about her character's action role in the third film.

She said: "It was great. I was really happy that in this movie Pepper got to do some more stuff.

"I quite liked wearing the suit. My son was thrilled about it. He came to the set a lot when I was in the suit. It was fun. I was in the suit quite a lot.

"I liked it. Robert hates being in the suit, but it was very different for me."
Gwynnie's husband Chis Martin was nowhere to be seen - maybe he was at home looking after their kids Moses and Apple.
The actress has spoken of her shock at being crowned People magazine's Most Beautiful Woman in the World ​ because of her "timeless look".
She said: "Around the house, I'm in jeans and a t-shirt. I don't really wear make-up. That's what [my family] are used to.

"And Chris will make a joke about it. If I've gotten fully dressed up, he'll be like, "Oh, wow! You're Gwyneth Paltrow!" Because he's used to seeing me in baggy shorts and frizzy hair."

Gwyneth recently gave People magazine an insight into her marriage to the Coldplay frontman.

She said: "On a personal level as friends, we really get along. We really laugh, and we're super into our kids. There's a good foundation.

"We've gone through some terrible times where it's been really, really hard, but I've sort of come through those times with a much deeper understanding of myself.

"And we're still married. We worked through it. I think it's easier to get divorced. But I think the more you keep at it, the more you end up seeing the value in it. But man, sometimes it is not easy."

Unsurprisingly, Gwyneth is yet to comment on her title as Star magazine's Most Hated Hollywood Celebrity. We don't blame her.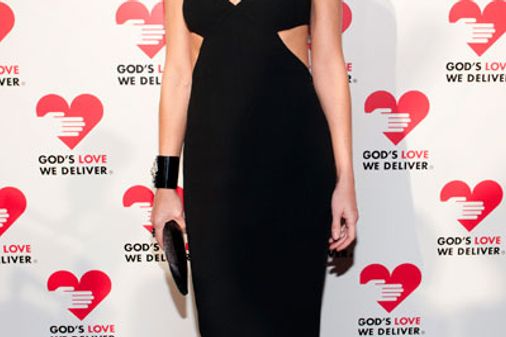 © Getty
Gwyneth Paltrow