One Direction fans feared Harry Styles had been attacked yesterday - when he was actually just the victim of an over-excited fan.

The 19-year-old had to be whisked to safety as he left his hotel in Oslo, Norway, when a hardcore Directioner managed to sneak past his security guards.

The young girl launched herself at Harry and wrapped her arms around his neck, as the 1D star pulled a face of pure shock.

He was then pulled away by his security, who managed to fend off a second girl desperate to get to him.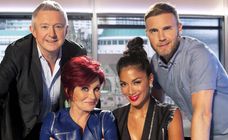 The plush £1,400-a-night Holmenkollen Park Hotel was surrounded by the band's fans, who were out in the hope they'd get a peek of their favourite boyband.

But it obviously all proved too much excitement for some.

Though Harry was just a victim of a rather forceful hug, rumours quickly hit Twitter that he had been attacked.

Harry Styles HQ tweeted: "News: Harry Styles Attacked by Fan in Norway."

Another user wrote: "Harry Styles brutally attacked by over-enthusiastic hugger in Norway."

And one fan posted: "Poor @Harry_Styles he's been the target of the TMHTOUR he keeps getting hurt or attacked."

Harry is currently on One Direction's Take Me Home Tour with bandmates Louis Tomlinson, Liam Payne, Niall Horan and Zayn Malik.

Despite his ordeal, Harry seemed to enjoy the group's gig in the city.

He wrote on Twitter: "Oslo was amazing.. Thanks for having us. One of my favourite places in the world."
We reckon Harry's quite used to dealing with over-enthusiastic fans.

One Direction have often mentioned that their followers go to crazy lengths to get close to them or make an impression.

Last year Louis, 21, revealed that the boys got quite a surprise when they were in the car in Sweden.

He told Alan Carr: "The Swedish fans were pressing their breasts up against the car window."

Niall, 19, added: "It was quite embarrassing."

Directioners have also been known to hide in a rubbish bin for four hours in an attempt to get close to the boys.

Zayn, 20, revealed last year: "They got busted. They hid in a bin and tried to come in the back entrance."

On top of this, 19-year-old Liam's dog has received death threats from his fans through jealousy.

Sounds normal.

© Getty
Harry Styles