Supermodel Heidi Klum has just returned from a dramatic Easter holiday in Hawaii that saw her rescue her seven-year-old son Henry from drowning in the ocean.

The 39-year-old experienced every mother's nightmare as she saw her little boy get swept away in a large riptide.

Henry Samuel was caught in the rip with two nannies and when they saw what was happening, Heidi and her bodyguard boyfriend Martin Kirsten both swam to save them.

Luckily no one was hurt and everyone made it back to the beach safely.

Speaking about the incident to Us Weekly, Heidi revealed: "We got pulled into the ocean by a big wave. Of course, as a mother, I was very scared for my child and everyone else in the water."

Thankfully, Heidi's young boy is not new to the ocean and was able to swim despite the current.

She added: "Henry is a strong swimmer and was able to swim back to land. We were able to get everyone out safely."

Before this scary moment happened, Heidi had tweeted an Easter photograph of colourful eggs placed around the beach with the caption "Happy Easter!"

The America's Got Talent judge returned to LAX on Monday with her family in tow.

Heidi was keeping her little ones close as she and Martin walked through the airport with Henry, Johan, Leni and Lou.

As if Heidi Klum wasn't already impressive enough; she can now call herself a supermodel, TV presenter, mother...and lifeguard!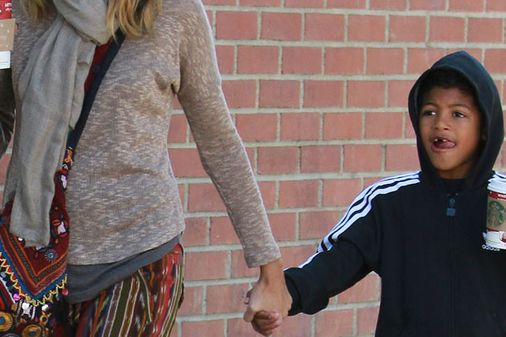 © Getty
Heidi Klum with Henry