James Gandolfini has died at the age of 51 after suffering a suspected heart attack on Wednesday.

The much-loved Sopranos actor was on holiday in Rome with his teenage son Michael when he fell ill.

The pair were on a "boys' trip" ahead of the Taormina Film Festival in Sicily and James' assistant Tom Richardson said they had spent a "beautiful day out together".

Michael is thought to have been with his dad when he died.

James - who played Tony Soprano in the hit mafia drama - is survived by his wife Deborah Lin, their nine-month-old daughter Liliana Ruth and Michael, his son from his previous marriage to Marcy Wudarski.

The actor married former model Deborah in Hawaii in 2008, six years after he divorced Marcy following three years of marriage.

A friend of the family says Tom Richardson told him: "When they got back to the hotel, Jimmy went to use the restroom. And something happened in there.

"His sister said he was alive when they took him out in the ambulance on the way to the hospital."

Michael's mum - James' first wife - is said to have immediately booked a flight to Italy to be with her son.
The actor's managers Mark Armstrong and Nancy Sanders confirmed the death: "Our hearts are shattered and we will miss him deeply. He and his family were part of our family for many years and we are all grieving."

And cable channel HBO called the actor a "special man, a great talent, but more importantly a gentle and loving person who treated everyone, no matter their title or position, with equal respect."

They added: "We're all in shock and feeling immeasurable sadness at the loss of a beloved member of our family.

"He touched so many of us over the years with his humour, his warmth and his humility. Our hearts go out to his wife and children during this terrible time. He will be deeply missed by all of us."

James' Sopranos co-stars have also paid tribute to the actor.

Steven Schirripa – who played Bobby 'Bacala' Baccalieri - said: "Jimmy was a dear friend and like a brother to me. He was a great actor and a great father. I will miss him terribly. I am very sad."

And Steven Van Zandt - Silvio Dante - tweeted: "I have lost a brother and a best friend. The world has lost one of the greatest actors of all time. Maureen and I send our deepest sympathy and love to Deborah, Michael, Lily, and all of Jimmy's family."

Sopranos creator David Chase said: "He was a genius. Anyone who saw him even in the smallest of his performances knows that. He is one of the greatest actors of this or any time. A great deal of that genius resided in those sad eyes."

He added: "He wasn't easy sometimes. But he was my partner, he was my brother in ways I can't explain and never will be able to explain."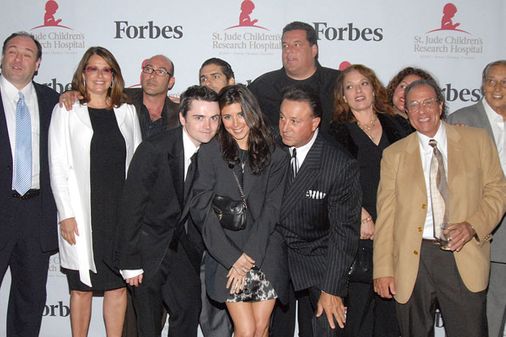 © Getty
The Sopranos cast